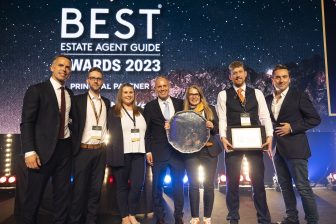 Yesterday at EA Masters, the winners of the Best Estate Agent Guide Awards were announced.
Every single estate and letting agency in the country, 15,000 brands, were included in the assessment.
In total 2,230,000 sales "triggers" and 1,777,000 lettings "triggers" were taken into consideration (a "trigger" includes new instructions, price reductions, withdrawn properties, sale or lets agreed, fall throughs and exchanges/lets).
This mammoth examination was carried out by TwentyEA.
Approximately a third of brands who made the initial "cut" then went onto receive a comprehensive marketing assessment and a mystery shop, (both exercises conducted by independent, specialist firms who were commissioned by EA Masters).
The Top 5% of estate agents received a Gold Award, and those receiving one for both Sales & Lettings can claim to be in the Top 2% in the country. From this elite group, the following awards were announced by branch number/size band:
Sales
1 – Vital Space
2-5 – Stow Brothers
6-20 – Ocean
21+ – Bradleys
National – EweMove
Lettings
1 – Revilo
2-5 – Sawdye & Harris
6-20 – Ashtons
21+ – Peter Alan
National – EweMove
Sales & Lettings Combined
1 – JD Gallagher
2-5 – Sawdye & Harris
6-20 – Hackney & Leigh
21+ – Bradleys
National – EweMove
The overall trophy winners are:
Sales – Vital Space
Lettings – Ashtons
Sales & Lettings – JD Gallagher
JD Gallagher, based in Lancaster, won the most coveted Best Agent for Sales & Lettings Combined award. This is the second time in a row they have been recognised for this award having scooped the same prize last year.
Also announced at EA Masters, were the Best EA Supplier Awards, sponsored by Kerfuffle, which are also sorted by size band, and based on votes from estate agents who actually use their services.
Small
Bronze – Integra
Silver – Stephen Brown
Gold – Agent Response
Medium
Bronze – (Joint) Dawsons, Training Acaboom
Silver – Vouch
Gold – Inventory Hive
Large
Bronze – Simply Conveyancing
Silver – (Joint) Landmark, InventoryBase
Gold – Street Group
The overall trophy winner, and Best EA Supplier of the Year is Street Group.
The EA Masters is the estate agency event of the year with over 1,000 leading agents and suppliers attending the day long conference, exhibition and awards ceremony.
OnTheMarket are the Principal Partners, and their CEO, Jason Tebb, delivered an impassioned speech highlighting how OnTheMarket is delivering ever increasing numbers of products and services to enable estate agents to improve their service delivery to home movers.
Sarah Kemp, EA Masters event director commented: "There is no other assessment that is as comprehensive and rigorous, hence the winners are truly the Best Estate Agents and Suppliers in the country."