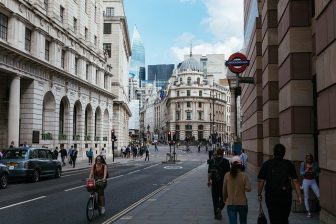 Another rise in UK interest rates today is inevitable. The only question is how far policymakers will go at their meeting this morning, as pressure grows on the Bank of England to increase interest rates significantly to help curb the highest inflation rate in decades and a government keen to cut taxes to boost the economy.
The money markets are pricing in a 75 basis-point hike today, the biggest in 33 years, which would raise the Bank Rate from 1.75% to 2.5%.
Traders are also anticipating large rate rises at the BoE's meetings in November and December, taking Bank rate to 3.75% by the end of this year.
"Investors think the most likely outcome is that the MPC will increase the Bank rate by 75bp on Thursday," said Samuel Tombs, chief UK economist at Pantheon Macroeconomics.
Mortgage holders, house hunters and savers will be affected by the Bank of England's decision to increase the rate from 1.25%.
Homeowners on Standard Variable Rates or tracker mortgages will be hit the hardest in the short-term by today's interest rate increase.
Ahead of today's rate decision, Rightmove calculates that if interest rates rise by 0.75%, new first-time buyers would see monthly mortgage payments increase from 40% of their gross salary to an average of 43% of their gross salary, the highest level since November 2010.
The average monthly mortgage payment for new first-time buyers would increase to £1,141.
Further stats:
Average monthly mortgage payments for new first-time buyers are 30% higher than they were in January (£1,056 per month, compared with £812 per month)

If the rate rises by 0.75%, the average monthly mortgage payment for new first-time buyers would increase to £1,141
If the rate rises by 0.5%, it would increase to £1,112
If the rate rises by 0.25%, it would increase to £1,084

A 10% deposit on an average first-time buyer type home is now £22,409, which is 57% higher than ten years ago (£14,135)
The average asking price of a first-time buyer home is now £224,091
The latest data shows average gross monthly salaries have increased by 32% in ten years
The current average mortgage rate for a 90% LTV two-year fixed mortgage is nearly 4%. It was last 4% or more in September 2014, and was 6% 10 years ago
Demand for first-time buyer type properties is still up 27% compared with the pre-pandemic five year average, despite affordability challenges
Rightmove's property expert, Tim Bannister, said: "Despite interest rates rising, demand in both the first-time buyer sector and overall market is still up on the longer-term pre-pandemic average, signalling that many are adapting to changing rates in their plans and getting on with moves. Even a seventh consecutive rise of as much as 0.75% would take average lender rates back towards where they were as recently as 2012-2014. The indication is that rates are set to rise even further into 2023. This sense that it's going to become more expensive to borrow means that those thinking of buying for the first time may rush to fix now before rates rise further."