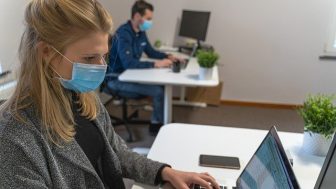 More than 35 million people in the UK have now received at least one dose of a coronavirus vaccine after the UK government hit its target of offering a first jab to everyone in the top priority groups.
With the aim of offering vaccines to as many adults as possible by summer, the government says the continued success of the vaccine programme is one of the reasons why the four UK chief medical officers have agreed the Covid-19 alert level should move from level 4 to level 3, meaning the "epidemic is in general circulation".
However, there are still a number of people refusing to have a Covid vaccine, which raises concern among some as the return to the office draws closer for many workers.
A fresh study from HR software provider CIPHR has revealed that 64% of UK workers think employers should be able to require employees to receive the Covid-19 vaccine before returning to the workplace.
What's more, 35% of all UK workers said they would not work in the same office or work environment as someone who has refused the Covid-19 vaccination.
It is Gen Z, alongside Millennials, who are the most vaccine-conscious co-workers with 38% saying that they would not work in the same office or work environment as someone who refused a Covid-19 vaccine, according to the study.
Claire Williams, director of people and services at CIPHR, said: "It doesn't come as a surprise that many British workers think employers should require all staff to receive the vaccine, when as a nation we've spent the past year responsibly adhering to the government rules to keep ourselves and loved ones safe.
"However, it is concerning that so many workers have indicated that they would not want to return to the workplace if one of their co-workers refused to be vaccinated. Ongoing investment in workplace health and safety is going to have to remain a high priority as we navigate the return to work."