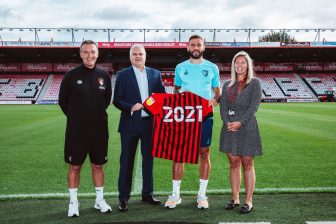 AFC Bournemouth has announced an eighth season in partnership with local estate agents, Goadsby.
The estate agency will continue their support of the club's Community Sports Trust and will sponsor the educational project, Citizenship & Respect.
The programme is delivered in primary schools across Dorset and looks at how children's love of sport can be linked to encourage positive behaviour.
With Goadsby's support, the aim is to educate children on how to be respectful in everyday life.
The firm, founded in Bournemouth in 1958, says that it is one of the largest, multi sector independent estate agents in the south of England.
Paul Stewart, managing director of commercial at Goadsby, commented: "Goadsby are proud to assist with the Citizenship & Respect project particularly, as the majority of the club's Community Sports Trust work is aimed at children.
"We are honoured and delighted to be extending our sponsorship for an eighth season."
In order to help support this project, Goadsby has created workshop booklets for the pupils to aid their learning of citizenship and respect.
Such booklets include fun activities and games, whilst also showing examples of how we can show respect specifically in football.
AFC Bournemouth's partnerships manager, Amy Marks, said: "We're thrilled to extend our partnership as Goadsby do some really good work within the community.
"They also actively engage with our business club in attending our corporate events and taking up the opportunities to network with other local businesses."