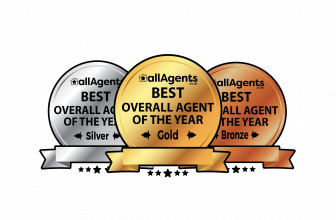 Review website allAgents has announced that its awards ceremony will be held in London this year for the first time.
The event, which will be held at the Kia Oval on Friday 4th November, is set to be hosted and presented by a celebrity guest who has not yet been named.
Last year's awards bash, the review website's first ever in-person ceremony, was held at the Queens Hotel in Leeds – but a larger venue is needed this year, according to Martin McKenzie of allAgents.
He said: "Within six weeks we managed to fill last year's Leeds venue to full capacity. The event was lauded as a great success and was a memorable and rewarding experience for all prize winners and everyone lucky enough to attend.
"Having listened to feedback, this year we've moved the ceremony to London in order to increase overall capacity and meet demand."
"We're also introducing more awards for industry suppliers, as we aim to recognise the excellent service many of these firms play as they continually push our beloved property industry forward," he added. 
To book your tickets for the 2022 allAgents Customer Experience Awards, click here.