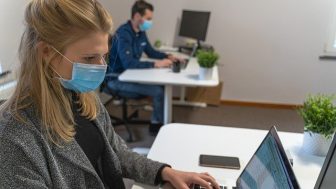 A number of estate agents are planning to expand this year, a new survey suggests.
Some 961 agents were polled this month, with 70% declaring an interest in expanding their business through additional staffing or premises at some point over the next 11 months.
The industry survey also found that just over a third – 35% – of estate agents have hired additional staff to keep up with the existing market.
Some 15% have hired between one and two more people, 11% have hired between three and five new faces, with 3% hiring six to 10 and 6% hiring 11 or more new staff.
When it comes to a new office, 11% stated they had expanded their existing branch or office, while just 3% have moved to a larger office and 1% have opened an additional office.
Current market conditions have certainly played a part, with 35% stating that the pandemic property boom was the reason behind their expansion.
Alice Bullard, head of commercial at Nested, which commissioned the survey, commented: "It's been a whirlwind 18 months or so for the UK property market and the nation's estate agents have been working in overdrive just to keep up.
"So, it's hardly surprising to see that a good chunk of us have been on a recruitment drive in order to cope with such high levels of market activity, while some have also expanded their base of operations.
"That said, the majority have held steady and chosen to delay any expansion plans until this year. This caution is understandable given the wider economic uncertainty that the pandemic has posed but now there does seem to be light at the end of the tunnel.
"Many had also predicted the property market boom would come to an abrupt halt following the stamp duty holiday deadline, but it appears that this has yet to materialise and much of the UK is set to grow even stronger in 2022."
Survey of 961 UK estate agents carried out by Nested via consumer research platform
Find Out Now
(6th January 2021).