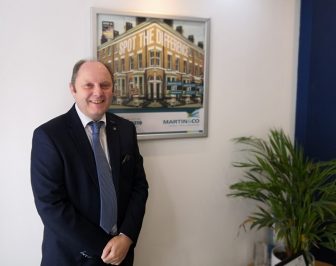 The Cupar branch of Martin & Co is now under the ownership of landlord and property developer Grant Simpson.
He acquired the Fife branch from outgoing franchisees Kim and Jackie Godwin, who are retiring after a long, happy and successful innings at Cupar.
After running his family's trade and retail sales businesses for more than three decades, Grant retired himself – only to "get bored" after just three months and start looking for a new challenge.
"I spent time managing my own buy-to-lets and doing some property developments, but I was always keen on getting into the lettings side of estate agency as I knew how resilient and rewarding it was," said Simpson.
"The helping hand, quality of support and knowledge base that the Martin & Co franchise model provides made joining the brand an easy choice."
Simpson grew up in Angus but spent a lot of time in Cupar and Fife when he was younger as his father was a regular entrant in the Highland Games there.
He added: "Once I saw that the Cupar branch of Martin & Co was up for sale, I looked into it straight away as it's an area I'm so familiar with. I could see at once that it was a superb business, so I went for it."
Eric Walker, managing director of Martin & Co in Scotland, said: "We are delighted to be supporting Grant Simpson with his acquisition of our Cupar business.
"East Fife is one of Scotland's property hotspots with market analysts reporting record house price inflation, with prices in parts of Fife rising by more than 26% in the last year.
"Rental growth is strong too. Quality of life is attracting homemakers and investors alike to the area. Cupar a great place to be – whether as a location for business, or as a place to live and to make a home.
"With record levels of activity, we are looking forward to record business being done by Grant and his team and to having record numbers of happy clients at Cupar."