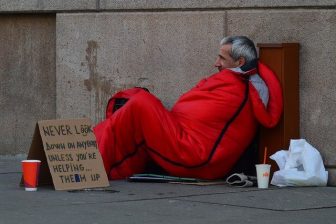 The government is being urged once more to do more to help support buy-to-let landlords if it is serious about tackling the homelessness crisis in this country.
Research by charity Shelter suggests more than 274,000 people are currently homeless in England.
Outside of London, Luton in Bedfordshire has the highest rates of homelessness, the figures showed.
Shelter's chief executive Polly Neate said: "We predicted the pandemic would trigger a rising tide of evictions and our services are starting to see the reality of this now.
"We're flooded with calls from families and people of all ages who are homeless or on the verge of losing their home."
The end of Covid protections, eviction ban and a universal credit boost, alongside winter pressures and rising living costs, could mean thousands more vulnerable people are at risk, the charity says.
The government insisted that tackling homelessness was an "absolute priority". However, Propertymark said that mote needs to be done to ensure that there is a sufficient volume of homes available in the PRS if it is series about addressing the growing issue.
Eleanor Bateman, policy officer at Propertymark, said: "Figures for the number of people in temporary accommodation published in Shelter's latest report are a stark reminder of the undersupply of homes to rent in this country, and the affordability issues that this exacerbates.
"A historic lack of funding in the social rented sector, coupled with the many legislative pressures placed on the private rented sector in recent years have given rise to this situation, and drastic changes are now crucial.
"In order to ensure that the private rented sector can provide homes for those that need them, the UK government must prevent more landlords from leaving the sector – they have the perfect opportunity to level the playing field with the upcoming Renters' Reform White Paper."
Landlords welcome plan to use 'private rented property to help end homelessness'