A number of property commentators have reacted to the latest Rightmove house price index, which shows that national average price of property coming to market hit a new all-time high of £327,797.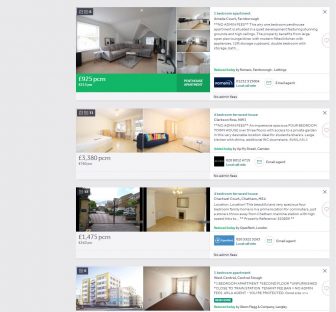 The managing director of Barrows and Forrester, James Forrester, commented: "A record-breaking month on many fronts with asking prices increasing at an incredible rate, as a heightened level of demand pushes property values ever higher.
This price growth is also being driven by a lack of available stock, particularly second stepper suitable two and three-bed homes. In fact, you'd have an easier time finding a straight-talking politician than you would a decent three up, three down in current market conditions."
Director of Benhham and Reeves, Marc von Grundherr, said: "The top end of the market is driving current performance with the strongest rates of house price growth and, unlike the regular market, this train is unlikely to come off the tracks when the stamp duty holiday expires.
"While a considerable cash saving in stamp duty tax is nice, it's not the driving force behind prime property purchases and so we're not seeing the mad scramble to complete that is causing havoc in lower price tiers.
"It's very much a case of the hare and the tortoise in this respect and while the general market is sure to run low on steam come the end of the year, the high-end market is likely to keep moving forward at a strong and consistent pace.
"We're seeing this in London more than anywhere at present, having lagged behind and, in fact, suffered to the greatest extent over the last year, the market is now starting to turn and at a pace that will ensure a cleaner bill of health come September and beyond."
Matthew Cooper, founder and managing director of Yes Homebuyers, commented: "Please don't be fooled by claims that homes are 'selling' at their fastest ever rate. This couldn't be further from the truth and while sellers are securing a buyer at an incredibly quick pace, the time it's taking to actually complete is significantly longer than it has previously.
"As a result, sales that should be done and dusted are stagnating for months on end and many are falling through as a result.
"You have to question if a platform with the visibility of Rightmove should be fuelling the current market hysteria and the resulting logjam by spurting fluffy statements around record-breaking market sentiment."
The CEO of Keller Williams UK, Ben Taylor, said: "House prices have gone stratospheric and if you believe that what goes up, must come down, then surely we must be due a correction soon.
"That said, there have only ever been two periods in the last thirty years where house prices have fallen over any significant time and so there are smarter bets to be made.
"If anything, the new Government-subsidised low deposit mortgage, and interest rates that are set to fall still further, will probably cause this explosive market to continue crackling."
The managing director of Ascend Properties, Ged McPartlin, added: "At the rate the current market is moving, there will be no houses left to sell. It's great to see the North is the engine room powering this immediate market performance with some astonishing 9% plus annual rates of growth in both the North West and Yorkshire.
"Yorkshire alone has enjoyed a 4.2% increase on a month on month basis which is usually a rate of growth reserved for annual performances and really highlights how quickly the market is moving at present.
"If this rate of growth were to continue, Yorkshire folk could expect to see the value of their home increase by £116,000 in a single year."