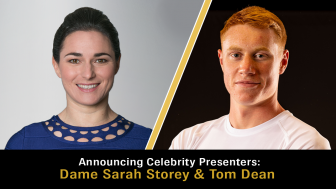 The EA Masters will return to a physical event for the first time in over two years on 3 November, with their show-stopping Award Lunch and Conference at London, Evolution, Battersea Park.
Now to top that off, Property Industry Eye can exclusively announce that they have scooped British Olympic Gold Medalists Dame Sarah Storey and Tom Dean to present the awards at the Best Estate Agent Guide Awards. Sarah Storey will also deliver a presentation called 'Joy of the Journey,' with Tom Dean taking the stage for a Q&A with EA Masters host, Lucia France.
Sarah Story Britain's greatest paralympian and will no doubt bring an abundance of inspiration and energy to the EA Masters stage. Her achievements in athletics are nothing short of astounding. One of the most versatile athletes in the world, Sarah has won both World and Paralympic Gold Medals for her country in swimming and cycling and in 14 different events across those sports.
Following a break from racing to have her first child, she also returned to action with a World Record at the 2014 World Track Championships, beating the time she set when she won her first Gold medal in London.
That was the first of two impressive comebacks that Sarah staged. Returning to competition after the birth of her second child, she won two Gold Medals at the 2018 Road World Championships before switching to the road for the Tokyo Olympics in 2020 where she was the most successful female athlete of the cycling events and broke the British record of 16 career golds.
In what is going to be a hugely-inspirational talk at the conference that is certain to fire agents up – she will be sharing insights from her enormous-accomplishments and discuss how the smallest margins can mean the difference between winning and losing and share her experiences of pushing the 'mind and body' to its limits.
With a wealth of raw talent and winning mentality, Tom Dean's presence is also set to light up the room following his double gold medal success at the 2020 summer olympic, which took place in July of this year. You can also add resilience and determination to that impressive resume as despite catching Covid-19 twice in the build up to the games and missing almost two months of preparation, Tom still walked away with a Gold medal in the 200m freestyle and a gold in the men's 4 × 200 metre freestyle relay. He became the first male British swimmer to win two gold Olympic medals at the same games in 113 years.
Winners of the Best Estate Agent Guide Awards can look forward to being presented with their certificates and a photo op during the lunch break with one of the Olympic stars.