Newman Estate Agents has launched an incentive trip for its estate agents and mortgage advisors to encourage them to hit sales targets this year, despite the heightened Covid-19 restrictions in place.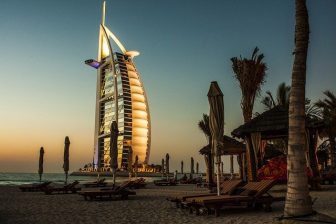 Company chairman, Sean Newman, is urging agents and brokers to hit their production target.
Normally it would just be the top performers at Newman Estate Agents, which covers the Midlands, going on a trip abroad and that was the original plan for 2021, according to Newman. However, he wants to encourage more agents working with the firm to get out and secure more sales, and so has extended the incentive trip to all the firm's partner agents and mortgage advisors, with a view to inspiring them to do more business in 2021.
"The fun packed four-day trip, staying at a five-star hotel will include a yacht trip around The Palm, a day at beach club, jet skis and dune buggies," said Newman.
But while Newman's incentive would be welcomed by some agents in normal times, others may consider it to be inappropriate at this moment in time, not to mention insensitive, given the widespread concerns about operating in estate agency during the existing pandemic, as reflected by some of the latest comments posted on EYE.
Newman continued: "We love to recognise great performance and reward those that have worked hard and achieved some amazing results. We planned to take the top three performers to Dubai however we are really excited to give every partner agent the opportunity to enjoy this incredible trip.
"I love seeing agents do well and my role is to help agents achieve their production targets by providing all the tools, support and help they need. This includes training, mentoring, administration support, marketing, social media, sales progression and business generation. This means agents can focus on listing and selling more properties and have more time to give their clients outstanding levels of service."
Some of Newman Estate Agents' top performers in 2020 have just won trips to New York, including Sam Funnel who personally exchanged on over £400,00 in fees in 2020 and Terry Robinson who exchanged on over £214,000 of fees in the last quarter of 2020. Robinson also won a trip to Venice for top sales in the last quarter.
Despite the existing travel restrictions in place, people are still permitted to go abroad for business purposes, although Newman has not disclosed when the trips will take place.
Newman added: "Our agents love to have something to aim for, they are competitive and this definitely improves performance. The trips are a great reward for them and are brilliant for team building.
"Are any other companies offering incentive trips or competitions? We would love to hear about them."
Some may consider it to be a somewhat surprising time to be offering agents incentive trips abroad, given the national effort to stop people travelling unless absolutely essential.
The health secretary Matt Hancock yesterday slammed British holidaymakers for still spending time abroad, including "weekends in Dubai", amid the UK's Covid-19 international travel ban.
Speaking to BBC Ander Marr show, Hancock said: "International travel, right now, should not be happening unless it's absolutely necessary.
"No parties in Paris or weekends in Dubai. That is not on and in most cases it's against the law."
Ministers are expected today to discuss the possibility of forcing travellers arriving in the UK to spend their 10 days of quarantine in a hotel, in a bid to deter many people from going abroad unnecessarily.