Despite the fact that most property searches begin online, many people do still regularly stop outside estate agents to scan the windows to see what is on the market, and at what price.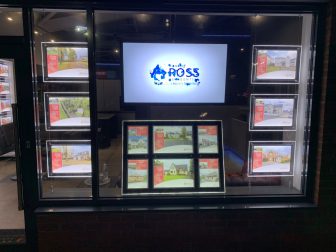 This level of interest presents high street agents with a fabulous opportunity to engage with prospective customers by making their window interactive, supported by new technologies and cutting-edge products, with a view to winning more business.
Rather than just sitting back and accepting that engagement is moving more online, some agents are actively looking to revolutionise their shop fronts to drive higher visitor numbers and more face-to-face engagement.
Adopting technology shows that an agent is forward thinking about their business and in step with their clients, according to Fraser Stewart, a director of Donald Ross Residential.
Stewart says that the Ayrshire-based estate agency has seen a greater level of interest of interest from passersby since his firm recently installed a digital signage system on its shopfront TV screens.
He said: "I can say, in the 15 years I have been in this sector, I have never seen so many people stopping to look at our shop window and judging from their comments, loving what they see."
Stewart believes that his firm now has "the edge" on its competitors because no one other local agency is using digital signage.
He added: "We are starting to see the results in significantly higher property enquiries. I have no doubt that this will turn into more sales, reduced print costs and increased profits for the company."