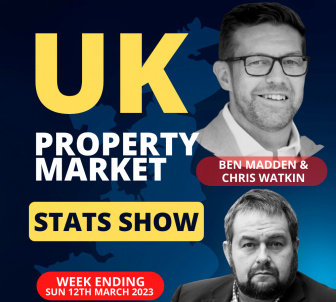 The UK property market had its best week for house sales since the week before mini budget in September 2022, the latest data shows.
For the week ending this Sunday (12th March 2023), 23,417 homes sold subject to contract (STC), which was the best week for sales since the September 2022 Budget.
This week is not a flash in the pan, either.
The average number of properties sold STC in the last seven weeks has been 22,433 per week.
Sales that have been agreed upon in previous weeks yet fallen through this week (e.g. because of a poor survey or someone in the chain changing their mind) are also low.
Fall throughs remained very low at 5,050 last week (the previous 7-week average is 4,887 sale fall throughs). This represents a fall thru rate this week of 21.57% (i.e. this week's fall-throughs of 5,050 as a percentage of the 23,417 house sales). For comparison, the long-term 7-year weekly average is 24.26% (the higher the number, the worse it is).
Regionally,
Inner London had its best sales month since August, with 5,506 sales agreed in the last four weeks and a very low fall-through rate of 21.3%.
Outer London is firing on all cylinders, with the numbers of house selling (i.e. sold stc) returning to weekly levels seen before the September 2022 budget.
The Southeast saw 3,617 homes sold last week, the best weekly sale figures since last August (and an average over the previous seven weeks of 3,481 homes sold (stc) in last seven weeks)
Southwest had its best week since November for house sales.
All the other regions in the UK have had their best three weeks for house sales. Watch the show or download the stats to see your area's performance.
The 'fly in the ointment' is the net sales (total number of sales minus fall throughs) from the start of the year. This is because of a slow start in January. In 2023, estate agents have seen a 9% drop in new sales in their pipeline compared to 2017/18/19 levels and 27.6% fewer than 2021/21 levels. This will hit Estate Agents' pockets as they will have smaller sales pipelines and need to take more significant market share and raise fees.
The video is for Estate Agents, Letting Agents and people who love the property market.
This week's special guest is estate agent Ben Madden as he joins Chris Watkin to look, analyse and comment on some very interesting property stats, numbers and graphs which reflect the latest trends in the UK and regional housing market.
In the last 15 minutes of the show, there is a focus on the Swansea property market, comparing market share and the effectiveness of all the Swansea agents.