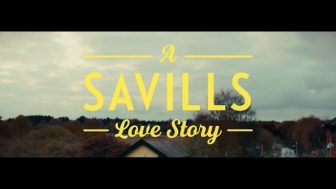 The majority – 67% – of home movers surveyed by Savills have stated that it was love at first sight, when asked how long it took to know their home was 'the one'.
The study also found that a further 12% said that they needed at least three viewings and 11% described it as a slow burn, while of respondents admit that it took realising that there was competition from others to know that it was 'the one'.
This survey of more than 3,000 people, comes as Savills launches a major new integrated advertising campaign, 'Love Stories', which celebrates the relationship that we all have with our homes. The campaign is the third instalment of the firm's commercial series that first broke in 2017.
Savills survey revealed that more than half describe their relationship with their home as their 'sanctuary' (54%), whereas almost a third (31%) are ready to end the relationship and move on or are already back on the market. But, just 16% think their relationship with their current home will last forever.
Seeking approval from parents (29%) and friends (4%) was low on the list of home movers' priorities, with almost half (48%) stating that they trust their own judgement when it comes to buying or renting a home. Still, more buyers put greater importance on living close to friends and family (34%) than to work, transport and even local pubs and shops.
Hits to the Savills website traditionally rise by at least 40% in the week following Christmas Day, so 'Love Stories' will be targeting those considering a home move – whether buyers, sellers or renters – just as they begin their planning.
"Our survey findings highlight the host of emotions that Britons typically feel when choosing a new home – it's a big decision and important to get it right," said Andrew Perratt, head of country residential at Savills.
"We are going into 2022 with new buyer demand running at an exceptionally high level, more than double normal levels for this time of year, suggesting a great many people are looking  to move on and fall in love with a new home."
The new 60-second ad, which first aired on Boxing Day, will run through until Valentine's Day.
Savills TV ad to premier on Boxing Day as part of new marketing campaign