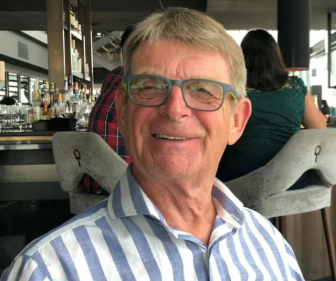 Tributes have been paid to Michael Tuck who started working as an estate agent in Gloucester almost 40 years ago.
Tuck suddenly passed away at home on 19 July. His son, Richard, director of Michael Tuck Estate Agents, said his father had been working right up until the day he died.
Tuck's funeral service will be held at Gloucester Cathedral on Tuesday 16th August, at 10.30am, followed by a private burial. After the service there will be a celebration of his life at Kingsholm, home of Gloucester Rugby Club.
Tuck, who started off as a financial adviser based at Gloucester estate agency Beacham & Harris in the 80s, took over the company in 1983. He expanded the estate agency business over the years. The company now has three Gloucester branches, in Bristol Road, Abbeymead and Quedgeley.
Richard Tuck said: "My father was well known in the business community. He founded the business in 1983 and he was looking forward to celebrating the 40th anniversary next year. He was still working on a daily basis right up until the day he died."
He added: "The number of messages and flowers and cards the family have received has been unbelievable. We are expecting a decent turnout at the Cathedral on Tuesday."
Aside from work as an estate agent, Tuck said his father had other interests, including flying light aircraft and painting.
Tuck also loved sport. He was vice chairman of Gloucester City Football Club in the 1990s and supported Gloucester Rugby both home and away in more recent years.
As a mark of respect, all of Tuck's offices will be closed for part of the day on Tuesday to allow all of the staff to attend the funeral.
A statement on the company website said: "Mike will be greatly missed by his family and colleagues along with the business and sporting communities in Gloucester.
"He recently contributed to the Company History page on our website which he was very proud of. It is particularly poignant to see that our Mission Statement remains exactly the same as it did in 1983 – 'personal service backed up by local knowledge'.
"We would like to thank everybody for their support and kindness over the last few days, and it is our aim to ensure that his legacy continues for at least the next 40 years."
Tuck leaves behind his wife, Julie, and daughter, Michelle, as well as his son, Richard.
Family flowers only are requested, but donations are invited for PAPYRUS, Prevention of Young Suicide, a charity close to Tuck's heart.