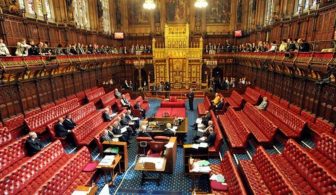 Landlords caught offering sex for rent to prospective tenants could face up to seven years in jail under a new tougher law backed by the House of Lords last night.
Peers voted 206-176 for an amendment to the Police Bill, making it easier for police to prosecute landlords who take advantage of vulnerable tenants.
The upper chamber also backed without a vote a move to target those who facilitate adverts for the illegal practice with the threat of a £50,000 fine.
Although confirmed as a sexual offence in 2017, the upper chamber heard just one person had been charged in a sex-for-rent case and only as recently as last year.
Proposing the amendment to the Police Crime, Sentencing and Courts Bill, Labour frontbencher Lord Ponsonby said: "The law itself has been made extremely difficult for sex for rent victims to seek justice.
"According to the law, victims must be legally defined as a prostitute, which is a huge deterrent in their access to justice.
"Another reason why this scandal continues virtually unchecked is that landlords are able to advertise sex for rent in their properties very easily."
Home Office minister Baroness Williams described sex-for-rent as "an abhorrent phenomenon which takes advantage of very vulnerable people, and it doesn't have any place in our society".
She told peers existing offences already carry seven years' jail, and in 2019 the Crown Prosecution Service amended guidance on prostitution and exploitation.
She added: "Action will be taken against landlords who exploit vulnerable people – this behaviour is simply not tolerated."
The amendment will now be sent to the Commons, where ministers can choose to accept it, or order MPs to overturn it before it can become law.