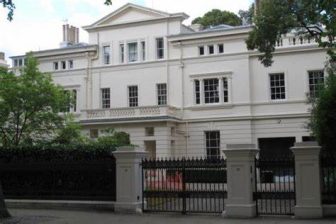 Chelsea FC owner Roman Abramovich was sanctioned yesterday by the UK government as part of its response to Russia's invasion of Ukraine.
He is one of seven oligarchs – seen as allies of Vladimir Putin – to be hit with fresh sanctions, including asset freezes and travel bans, but what properties in the UK have been affected by the move?
Abramovich's 15-bedroom mansion in Kensington Palace Gardens, which was put up for sale last week, with a price tag of more than £150m, is the biggest residential property asset to be negatively affected by the move.
The most expensive property in his London portfolio, this large home is Grade II-listed and was once used as the Russian embassy.
Abramovich's triplex penthouse in a 37-storey Chelsea Waterfront building, potentially around £30m, has also been seized.
Meanwhile, Abramovich's other property interests include a six-storey townhouse in Eaton Square, which he acquired for £28m.
Abramovich has denied links with Putin, who ordered the Russian invasion of Ukraine last week.
Loss of Russian buyers will not hurt London property market – Savills