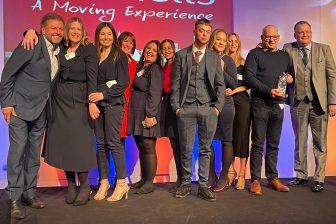 The winners of the 2022 allAgents customer experience awards have been announced. 
A room filled with estate agents at KIA Oval London UK eagerly waited to hear from celebrity guest host Martin Roberts of Homes Under the Hammer on Friday, to see if they had won one of these coveted awards.
Amongst other award top honours recipients were Springbok Properties from Manchester for best Online/ Hybrid Agent and Brookdale Property Management of Peterborough for best UK lettings branch.
Accompanying Manning Stainton's tranche of local medals for across West Yorkshire, were three national awards; for UK Sales branch at Pudsey, Best Medium Chain and Best Overall Agent in the UK.
The top mortgage advisor's trophy went to Mortgage Advice Bureau.
Coda Estates & DJ Alexander shared the Gold Medal spoils for best Sales Agent for Glasgow and Edinburgh respectively with Coda Estates also clinching the gold Glasgow Lettings medal. 
Martin & Co took the best lettings accolade for Aberdeen who were also runners up for UK lettings branch. 
allAgents' director, Martin McKenzie, who jointly hosted the night with Roberts, said: "It was a great event and in everyone in the room was a winner. The AllAgents Awards are different to any other property awards, covering all listed property agents across the UK, they are totally free to enter and are awarded solely based on the experience of the end user." 
The 2022 allAgents annual customer experience awards results and certificates are now available from the allAgents awards website. Here you will find the final top three podium results for all the UK postcodes, towns and regions are available from today.
Click here to search for this year's winners.