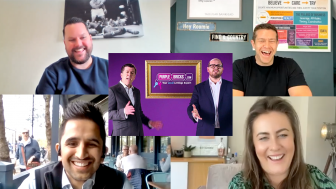 The Agents MVMT initiative went live this week with the launch of its first podcast 'Pass the Syrup', presented by estate agent Ben Madden.
The entertainment driven concept, run by agents for agents, sees guest appearances this week from Matt Baldock of Charles David Casson, Steph Walker of The Agency UK, and Vishaal Kher of Fine and Country. Chris Watkin also makes a brief appearance.
The guests all give their views on the recent purchase of Purplebricks by Strike, which throws up a heated debate, before moving on to discuss the Renters Reform Bill and 100% mortgages.
Guests are also asked to talk about great agents they've worked with, what weird and wonderful digital marketing they've seen recently, and any tips for agents in the current climate.
Madden said: "The idea is a simple one, there's a lot of waffle in the world of estate agency, so we're going to poor a little syrup over it and try to have some fun."