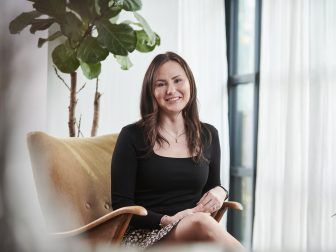 Purplebricks has announced that its chief executive officer, Helena Marston, and chief financial officer, Stephen Long, have been given a shares bonus as part of the company's performance share plan for senior management.
A statement to shareholders yesterday said: "Purplebricks Group plc, a leading UK estate agency business, announces that on 15 August 2022, the following awards over ordinary shares of £0.01 each in the Company ("Awards") were granted under the Purplebricks Performance Share Plan to the following persons discharging managerial responsibilities:
+ 800,000 Awards to Helena Marston, Chief Executive officer; and
+ 650,000 Awards to Stephen Long, Chief Financial Officer
"The Awards have an exercise price of £0.01 per share and become exercisable subject to continued employment and performance based on two performance measures relating to the Company's relative and absolute total shareholder return over a three-year performance period."
The shares payout to Marston and Long is also subject to the agency's Remuneration Committee being "satisfied as to overall company performance and other success markers including customer satisfaction".
Purplebricks' share value has plummeted since the start of last year, and is now a fraction of its all-time high of 525p in 2017, with recent regulatory failings, contributing to that decline. The significant fall in the firm's share price has caused many investors to sell up, concerned that Purplebricks might be vulnerable to a takeover.
Purplebricks announced earlier this month that Marston had purchased 629,585 ordinary shares of £0.01 pence each in the share capital of the company at a price of 15.90p per share.
Meanwhile, it was also revealed that Paul Pindar, non-executive chairman, had purchased 2,500,000 ordinary shares of £0.01 each in the share capital of the company at a price of 14.76p per share.
Purplebricks to hold AGM amid pressure from activist shareholder