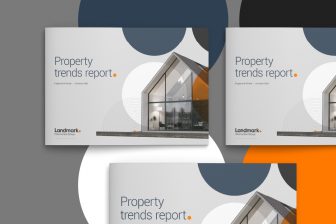 Data from the latest edition of Landmark Information Group's quarterly Property Trends Report has identified a fifth consecutive month of low property supply levels, with new listings reporting lower numbers than pre-pandemic figures in 2019.
The report, which reflects upon activity across England and Wales' residential property industry during July, August and September 2021, shows that listings were down by an average of 9% compared to 2019 data, while demand continued to outpace supply, maintaining a sustained imbalance in the market. July was the only month where listings were marginally higher than SSTC – the first month since October 2020.
With the end of the Stamp Duty Land Tax holiday, which concluded on 30th September, the conveyancing community once again had to manage significant fluctuations in completion activities in a race to beat the deadline. Completions peaked at 44% up in September versus September 2019, although the previous two months both recorded fewer completions compared to the prior two years. This has been a rollercoaster period for property lawyers and conveyancers as they navigate the various SDLT holiday deadlines and consequential activity peaks.
In other respects, property search order-volume data appears to present more stable results, with figures that are closely aligned to statistics reported in 2019.
Key Findings:
Property Listings: Last quarter, new property listings were down every month when compared to the same period in 2019: -6% in July, -13% in August and -8% in September, even though demand has remained steady. Unless a rebalance occurs, there is the potential to see stock levels continue to decrease as we head towards the end of the year, which could continue to affect house prices.
Sold Subject to Contract: For properties converting to Sold Subject to Contract, the data was relatively stable compared to previous quarters with a gradual trend that moved closer to the SSTC data from 2019 from month to month: July reported a 9% decrease, August 7% down and September a 1% difference from the pre-pandemic stats.
Legal Conveyancing: Property search order-volumes were a more consistent picture, month to month, with volumes marginally higher than 2019 figures; 3% up in July, 4% up in August and 2% in September. Even though property lawyers and conveyancers were working hard to meet the Stamp Duty deadline , it is most likely that a large proportion of searches were ordered in the previous quarter, due to typical order patterns and turnaround times.
Completions:Data shows that completions in September peaked 44% higher than in September 2019 driven by the need to beat the conclusion of the Stamp Duty incentive. The data shows however that completions were much lower in both July (-35%) and August (-19%) compared to 2019, illustrating a slowdown in mid-summer, most likely as legal professionals took some well-deserved time off after the exceptionally busy previous quarter.
Simon Brown, CEO of Landmark Information Group, said: "The property industry has shown great resilience over the last 18 months as it has had to traverse so many challenges – from the market closure amid the height of the Covid lockdowns, to surges in market activity driven by the government's stimulus activities, all the while managing home-working, furlough and unpredictable market conditions.
"As much of the property industry breathes a sigh of relief following the various surges in market activity ahead of the stamp duty deadlines, many aspects of the market are starting to present more stable figures, including SSTC, legal search order-volumes and mortgage valuations. We are however seeing the demand for properties continuing to exceed supply. This market imbalance has the potential to lead to depressed sales, placing increasing pressure on property prices, as sellers are able to command higher asking prices. We look to see if this adjusts as we head towards the pre-Christmas sales period."