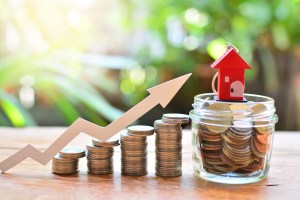 The average price of property coming to market this month has increased by 0.3%, or £1,113, to hit an average price of £368,614, according to Rightmove.
Average asking prices have risen more than £56,000 in the past two years, compared to a £6,000 rise in the two years before the pandemic.
Solo first-time buyers have once again been hardest hit by the latest rise in asking prices – the fifth consecutive – and now need a deposit of just over a third of the property price on average compared to a quarter a decade ago.
Property industry reaction:
Jeremy Leaf, north London estate agent, commented: "Even the Rightmove survey, in common with other recent housing indices, is telling us the housing market is coming off the boil despite the average asking price of newly-listed properties reaching record territory for the fifth consecutive month.
"Rightmove's findings have been defying reason for several months but finally affordability issues, prompted by the rising cost of living and particularly energy and interest rates, are having an impact.
"Hopefully, the change in circumstances will mean vendors set more realistic asking prices so that the level of transactions, which are important for the health of the market, can keep up as closely as possible with last year's."
Richard Davies, MD of Chestertons, commented: "Due to the bank holidays in early June, many Brits put their house hunt on hold which inevitably led to a slight drop in the number of viewings at that time. On paper, this might suggest a slowing of the market but in reality it has very much been a temporary dip as for the month of June so far, we have registered an actual 42% increase in buyer enquiries compared to June last year.
"Although demand still outstrips supply, we have noticed a higher number of sellers putting their properties up for sale. As a result, there has been a 3% increase in the number of available properties to buy."
Geoff Garrett, director of Henry Dannell, said: "With a string of small but consistent interest rate increases coming in quick succession, the cost of borrowing is now substantially higher than it was just six months ago.
This will inevitably have an impact on the housing market and the price buyers are willing to pay and we've already seen mortgage approvals fall by an average of 3.4% over the last three consecutive months.
Although sellers are yet to adjust their price expectations in line with this declining demand it's only a matter of time and expect buyer demand will continue to slowly reduce over the course of the year, thus dampening the extraordinary rates of house price growth seen in recent times."
Managing Director of Barrows and Forrester, James Forrester, commented: "There's certainly nothing seasonal about the current slow in property market activity and a fifth consecutive base rate increase will now cause buyers to tread with even greater caution when entering the market.
However, it's fair to say that the UK property market remains in good health at present. Having accelerated at alarming speeds during the pandemic, the current slowdown is more a case of observing the speed limit and returning to normality, rather than grinding to a complete halt."
Marc von Grundherr, director of Benham and Reeves, said: "A marginal uplift in stock availability will do little to address the heavily skewed demand-supply balance of the UK property market and so we can expect to see buyers continue to fight tooth and nail to secure a property in current market conditions.
Once they do, they can expect to remain in home buying limbo, stuck between having their offer accepted and actually completing, as the protracted and archaic legal requirements of the conveyancing process continue to cause significant delays."
Christina Melling, CEO of Stipendium, commented: "Growing economic uncertainty and increasing mortgage costs are yet to knock the property market which has been awash with activity throughout the pandemic. This will be welcome news for many, except the nation's first-time buyers, who have seen the cost of getting a foot on the ladder grow by more than nine per cent in the last year alone.
"The outlook for this beleaguered segment of the market is bleak, to say the least. Not only is the initial cost of a deposit still incredibly high, but they now face substantially higher mortgage payments once they have secured a foot on the ladder."