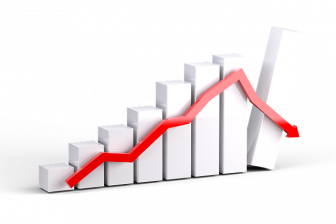 Residential property prices recorded the biggest monthly fall in October since early 2021, according to Halifax.
The average property value dropped by 0.4%, marking the third month-on-month drop seen in the past four months, the mortgage lender said.
The latest decrease follows monthly falls of 0.1% in both July and September and a 0.3% increase in August.
Annual house price growth slowed to 8.3% in October, from 9.8% growth recorded in September.
Across the UK, the average property price in October was £292,598, which was the lowest figure since May this year, although typical prices remained near record highs, Halifax said.
Industry reaction: 
Jason Tebb, CEO of OnTheMarket, commented: "With average property prices falling once again in October, and the annual rate of growth slowing, the inevitable rebalancing of the market continues. The 'new normal', an elevated version of the pre-pandemic market, but a calmer version of the frenzy we have seen in recent months, continues to emerge.
"Sellers are likely to find that if they don't price realistically, they may struggle to generate interest.
"Housing affordability is becoming increasingly stretched as the cost of living and interest rates continue to rise, yet our own data confirms that an aspiration to buy remains. Motivated buyers with good mortgage offers are even more keen to proceed with their purchases before these expire, rather than delay the process and starting again with a much more expensive product."
Iain McKenzie, CEO of The Guild of Property Professionals, said: "House prices are now starting to simmer down, but the effect is less dramatic than might be expected considering the economic upheaval of the last few months.
"Much of the chaos from the mini-Budget has been successfully navigated by the new Chancellor, but it's clear that sentiment has shifted from the optimistic mood seen during the early summer.
"With recession on the horizon, all eyes will be on how the jobs market holds up, which will determine how the property market weathers the storm over the coming months and years.
"We are still seeing the demand for good quality housing among first-time buyers, but reduced mortgage availability and rising interest rates may cause some to sit on their deposit until the market stabilises.
"Rental prices are still climbing for many households, and despite the changes to mortgage affordability, it still makes sense for prospective buyers to try to get their foot on the property ladder.
"Confidence in buying will remain robust if the Government holds firm on delivering the incentives to buy."
Matthew Thompson, head of sales at Chestertons, said: "October's property market was very much dictated by the avalanche effect of September's mini-Budget announcement. Buyers were facing the reality of higher interest rates and mortgage providers withdrawing a number of products, which created a new sense of urgency. This has led to house hunters rushing to finalise their purchase, resulting in a 53% increase in the number of exchanges compared to October last year.
"Despite economic uncertainty, buyer demand was undeterred as our branches registered the same volume of enquiries as in October 2021. This shows yet again that, compared to the national picture, London's property market has its very own rhythm and remains a key destination for buyers and investors alike."
Tom Bill, head of UK residential research at Knight Frank, remarked: "There was a sharp intake of breath in the UK housing market last month due to the impact of the mini-Budget but that doesn't mean prices are now on a steeper downwards trajectory. We expect mortgage rates to calm down in the short-term as financial markets respond to the new government but it's a fair assumption that house prices have peaked following growth of more than 20% during the pandemic. After 13 years of ultra-low borrowing costs, anyone buying a house or re-mortgaging will recognise the ground has shifted, which is the reason we expect prices to fall back to the level they were at in summer 2021."
Jonathan Hopper, CEO of Garrington Property Finders, commented: "What began as a slide in a few specific areas has turned into a nationwide downturn in prices. All English regions bar one saw the annual pace of price growth cool in October as pricing dynamics began a fundamental shift.
"On the property front-line we're now seeing reductions in asking prices in most markets, as sellers compete to attract proceedable buyers.
"While demand has eased off as thousands of would-be buyers are forced into a painful recalculation of what they can afford, those buyers who need to move continue to do so – but are frequently asking for, and getting, significant price reductions.
"While this isn't yet a recessionary market, surging interest rates and sliding consumer confidence are together reducing what buyers can afford, and reducing their willingness to invest.
"In some parts of the UK, sellers' fears of declining values have triggered a surge in supply, as those with a home to sell rush to list their property before prices soften further.
"This simultaneous jump in supply and cooling of demand will only send prices one way in coming months – and astute buyers are using this to their advantage to secure compelling discounts off asking price."
Nicky Stevenson, MD at Fine & Country, added: "Momentum in the housing market cooled in October as the reverberations from the mini-budget were felt throughout the economy.
"Longer term, tax rises and increased borrowing costs will continue to slow activity as buyers adjust to changing circumstances in the lending market and the broader economy.
"The slowdown may turn out to be less pronounced in the UK's prime markets where buyers' wealth means they often come to the table with fewer borrowing requirements.
"As recession bites in 2023, the broader outlook for the housing market may depend largely on the changing political picture both at home and abroad."