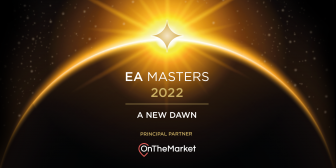 For the second year running, Property Industry Eye has teamed up with Estate Agency Events to be the official news industry partner for EAE's headline event – EA Masters.
EA Masters, which announced On The Market as Principal Partners earlier this year, is the longest established, and one of the most highly regarded estate agency events in the UK. It takes place on 21st September with 1,200 industry leaders attending in person at Evolution London and is broadcast live to an online audience for those unable to travel.
Welcoming the partnership, EA Masters Event Director, Sarah Kemp said:
"In my experience, the best property professionals are open to new ideas, keep up with the latest trends & actively seek out opportunities to learn.
"It's natural therefore that the leading news source and leading conference, exhibition & awards should form a partnership with the common goal of providing a forum for agents to meet the best suppliers, share best practice and stay informed about the latest business ideas."
EYE's publisher, Nick Salmon, responded:
"I've seen first-hand how EA Masters has developed to be the stand-out event in the industry. It's our mission to report on the things that matter to UK property industry professionals and as EA Masters is the most significant event of its kind in the calendar it is well worthy of our promotion and coverage."
The conference is renowned for its inspirational speakers and runs alongside the exhibition area which showcases the latest innovations from 60 industry suppliers and provides delegates with exclusive deals. The highlight of the event is the ground-breaking Best Estate Agent Guide Awards – which follows an assessment of every agent in the country – which recognises the winners with certificates, plaques and trophies presented by well-known celebrities.
Tickets to attend in person (limited supply) or online are available here.