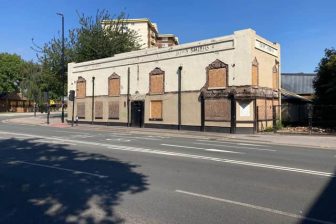 Plans have been lodged to convert a historic former city centre pub into an estate agency.
The submitted proposal includes building offices at the landmark Grey Horse building in Wakefield city centre.
The building, located on Kirkgate at the southern entrance of the city centre, was constructed in 1836 and operated as a pub from 1857.
The pub has historic links to Wakefield Kirkgate station, which was constructed around the same time. Trading stopped at the start of the Covid-19 pandemic and the pub never reopened.
Wakefield Property Group has applied to operate an estate agency, mortgage broker and letting services on the ground floor, with offices above.
A document submitted to Wakefield Council on behalf of the applicant stats: "Business has deteriorated in recent history and we understand that pre-covid the public house was generally in decline due to its location and the change in pub culture. The existing building was unfortunately vandalised during closure along with water damage caused by roof leaks."
The heritage statement adds: "We respectfully submit that the current building has no impact on the conservation area and detracts from the locality. The development will bring the building back into use and benefit the area along with removing the derelict structure."
The building was described as an "ale house and saddlery" when the first licence was granted in the 19th century. The business was run by the same family for more than 50 years and was developed to service the nearby railway station. The original entrance was on a public footpath linking Kirkgate with railway buildings.
The document says: "In recent history the decline in use of the railway changed the emphasis of the public house. Internally and externally the building is much changed from the original structure."