When the word 'Rightmove' is mentioned to agents, it immediately conjures an image of an Oligarch waving a Kalashnikov in the air shouting orders at the proletariat beneath them, such is the ill-feeling between the portal giant and its customers.

The reasons for this friction, this angst, are well documented – a mixed bag of outrageous annual price increases whereby as subscriptions have risen so too has the apathy and disdain that Rightmove seemingly has for its 19,000 customers. Ironic really, when you consider that all Rightmove does is to, in effect, sell agents' their own stock back. In any other sector this would be ridiculous. Like taking your car for an MOT and having to buy the car again. Or writing a book and paying the publisher to print it – moreover, allowing them to keep all of the profit too.
Talking of profit. Rightmove made £219.7m last year. To put this into perspective they grew their coffers by £408,364 for every single one of their employees. That's right, on average each of their staff members made them over £400,000 in 2019. And perhaps that's why the typical employee earns a whopping £63,468 a year, all except for one of course and that's the CEO, Peter Brooks-Johnson. He earned £2.1m last year. That's £175,000 a month. And if you think that's spicey, think about the fact that the CEO's total remuneration is now 488% higher than it was ten years ago. In 2009 the top job earned a ratio of EIGHT times the average Rightmove staff members' salary.
Now? Now that's leapt to THIRTY FOUR TIMES that of the ordinary worker there. Communism this is not.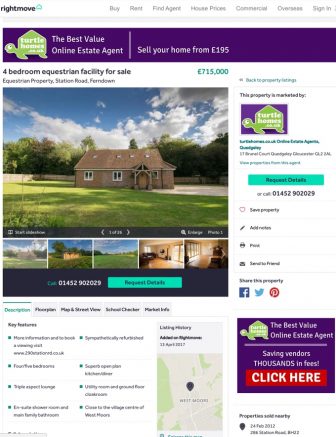 Rightmove is a massive success story but all depending upon which side of the table you are sat at. If you're at the head of the table as a shareholder or member of the senior management you're smashing it. But for the little guy, the agent, not so much.
An example of the relative inequality between Rightmove shareholders and their customers is the following:
Since 2009 the cost of listing homes on the portal has increased from £308 per month to £1088 per month – a 253% hike.
In the same period shareholders' dividends, the cash that they take off of the table has grown from £10m a year to a whopping £60m last year. A 452% increase.
Of the £1,088 average fee that Rightmove now trousers each month from agents, £924 is pure profit. As agents have struggled, Rightmove have squeezed and have prospered.
And what of value? By this I mean that cost and value are two different things in that something can cost more and more but will still provide a return that's relative to that cost increase. As costs go up, so does revenue for the customer. However, can the majority of agents attest that their revenues have increased at the same rate as Rightmove's fee increases? Has lead quality improved? Or have Rightmove simply found more and more ways to attract volume rather than quality? No wonder some 25% of email leads that are sent to agents are not even opened – because agents feel that many of these enquiries hail from drunken tyre-kickers in the depths of the night.
As you read this you will surely wonder how it is that these Milton Keynes oligarchs have managed to take the shirt from your back, spray it with Fabreze and to sell it back to you for more than you originally paid for it?
One thinks that instead of investing in expanding your estate agency you're better off simply buying shares in Rightmove. But if everyone did that there'd be no agents and therefore no Rightmove.
Hey, wait a sec… hold my pint.