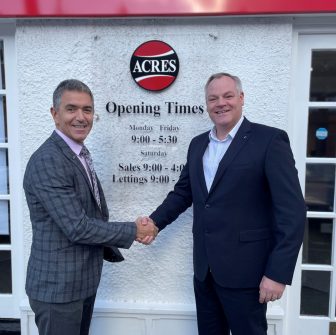 John Shepherd has sealed its second acquisition within a fortnight, adding a further 200 properties to its growing rental portfolio.
The Midland based agency has bought the lettings arm of Acres, a well-regarded and long-standing independent agency covering large areas of Sutton Coldfield and North Birmingham.
The 200 properties and two members of the Acres letting team inherited by John Shepherd – part of the expanding Lomond Group of agencies across England and Scotland – will transfer into its established lettings division in North and Central Birmingham.
The deal will now see Acres continue its residential sales business from its four-branch network in Sutton Coldfield, Wylde Green, Four Oaks and Great Barr.
Richard Crathorne, chief executive of John Shepherd, which is celebrating its 30th anniversary this year, said: "This is an exciting acquisition for us, right at the centre of our Midlands heartland.
"We are all thrilled to have acquired a rental portfolio from a market-leading agency of this calibre. It will help us further consolidate our position as the leading lettings agency in the Midlands."
He added: "We are now looking at other acquisition opportunities before the year-end to expand our lettings footprint, not just across our five-strong branch network but also into neighbouring in-demand districts."
The deal comes less than two weeks after John Shepherd acquired the residential lettings and sales business of Clothier & Day, a family-run independent based in Stafford to the north of Birmingham.
This brace of acquisitions adds a total of more than 320 properties to its rental portfolio, which now stands on the cusp of 3,000.
Nigel Deekes, who founded founded the agency in 1992, said: "The deal allows us to concentrate our skills on our sales office expansion plans with the focus solely on the buying and selling of property and working alongside Richard and his team in lettings to assist the growth of both businesses.
"It was important for us when selling our lettings portfolio that our landlords and tenants remain looked after in the best possible hands.
"Like ourselves, John Shepherd has strong Midlands roots, enjoys the same traditional values, and shares a passion for properties and the people who live in them."
John Shepherd, which operates branches in Birmingham, Solihull, Shirley, Harborne and Cannock, became part of the Lomond Group at the turn of the year when Lomond Capital and Linley & Simpson joined forces to co-create an ambitious new national lettings and sales business. It had been a key strand of Lomond Capital's business since 2016.
The group now has a combined portfolio of over 27,000 properties under management, and major hubs in private rental hotspots including Aberdeen, Birmingham, Brighton, Edinburgh, Hull, Leeds, Manchester, Sheffield and York.
It has brought together a number of letting and estate agency names, including Linley & Simpson, Thornley Groves, Brand Vaughan, Michael Jones & Company, John Shepherd in England, plus Stonehouse and Braemore in Scotland.
The Lomond Group has the backing of leading private equity firm LDC, with access to further acquisition investment provided by LGT Capital Partners.
Midlands agency expands with the acquisition of a competitor