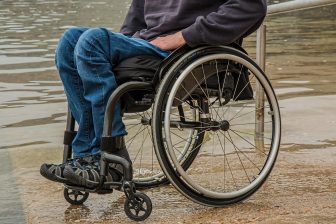 Charters has been accredited by a pioneering training initiative to help people living across Hampshire and Surrey with disabilities secure a home to rent.
Charters, based in Southampton, is the first lettings agent outside London to be accredited by The Accessible Lettings Scheme.
 
The letting agency has backed the Accessible Lettings Scheme as part of a concerted drive to make life easier for applicants living with disabilities and older people with mobility problems.
 
The Accessible Lettings Scheme was launched by AccessiblePRS in collaboration with Enham Trust, a disability charity, in late 2021. The initiative is designed to remove the barriers that those with disabilities face when trying to access the private rented sector (PRS), particularly the lack of clear access information on property and agency websites.
 
Guy Harris, director of AccessiblePRS, commented: "There are 1.8m people in the UK today who are living with accessibility needs, of which 700,000 are in the top half of income demographics.
"Of the 1.2m wheelchair users in the UK, 400,000 are living in unsuitable properties. A reported nine out of ten experience difficulties accessing the PRS – it takes many over a year to find workable, not suitable, accommodation.
"Add to that an ageing population that will see one in four aged over 65 by 2036 and it's easy to recognise the urgency with which the industry must adapt its processes to address the needs of disabled and older renters."
 
Suzanne Diamond, lettings director at Charters says that she is proud of her team's latest accreditation.
She said: "The current private rental sector is still in the midst of an unparalleled lack of stock and heightened demand.
"This means every property to let, regardless of price bracket, is secured quickly, leaving many disappointed. Applicants with accessible housing requirements who are unable to source the information they need to make a decision on a suitable home quickly are clearly at a disadvantage.
 
'We're determined to remove these barriers. Charters' Lettings specialists are now being trained and accredited by the Accessible Lettings Scheme to ensure we can offer the support and information that's so desperately needed by prospective tenants as they embark on their property search.
"We're committed to providing clear information about properties online that will pass the 3am test, make properties easily searchable online by using filters and key phrases and, crucially, ensuring our lettings specialist have a thorough understanding of disabled renters' needs."