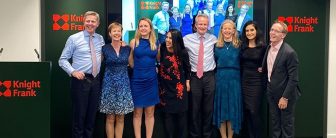 The UK residential division of Knight Frank has won the UK Customer Experience Overall Winner award at the 2021 Customer Experience Awards (CXAs).
The property firm was successful in securing the overall winner's award against a collection of other leading global brands, which included: Mercedes Benz, HSBC, Vodafone, O2 and TalkTalk.
Knight Frank was recognised by the judging panel for its innovative ideas and strong CX strategy.
In its presentation, the firm majored on its approach to the Covid-19 pandemic, and the importance of adapting to the needs of its customers and colleagues.
The company also demonstrated a deep understanding of the role it plays in its customers' lives, supporting and guiding them through every element of their property related journey.
Tim Hyatt, head of residential at Knight Frank, said: "We are delighted to have won this prestigious award. It is a true testament of our market leading teams and depth of real estate services we provide. It is heartening to be recognised as a leader in the customer experience space, especially when pegged head to head with some of the biggest brands in the world.
"I have no doubt it is our unique partnership culture, and strong values, which enables us to put the customer at the heart of everything we do. At Knight Frank we are driven by our purpose; working responsibly in partnership to enhance people's lives and environments. We are accountable only to one another as partners, and our customers, which allows us to provide a fully focused and best in class service."
As well as securing the overall Customer Experience award, Knight Frank also won:
Customer Centric Culture – GOLD
Customers at the Heart of Everything – GOLD
Customer Experience in a Crisis – SILVER
Learning and Development – SILVER
Hyatt added: "As we look to the future we plan to build on this success via a combination of technology, training and service offering initiatives. We have ambitious customer centric plans which are developing at pace, as well as remaining focused on investing in our people and attracting the very best talent in the market."