Hunters has unveiled a new franchise model – Hunters Personal.
The new model, which forms a key part of Hunters and The Property Franchise Group's growth strategy, supersedes previous iterations, with agents operating under a personal license to effectively buy and own a territory.
While the Hunters Personal Agent model has been around since 2008, it has evolved to meet changing customer needs, according to the company.
Even since last year, a spokesperson for Hunters tells EYE that the model has been "re-worked", insisting that it is not "a tweaked version", but rather "a brand new model which complements the Hunters brand".
According to Hunters, the main differences being:
The Hunters Personal model will provide the franchisee with a set of postcode areas enabling them to build their business, with the protection of knowing this is their territory to directly market and grow the Hunters brand
It will benefit from a new lettings proposition to make it easier for the franchisee to drive lettings, and benefit from a source of recurring revenue
There are separate training qualifications to cover both sales and lettings
A centralised monthly licence fee that incorporates many of the marketing tools to drive market share
To help kick-start the launch, Hunters is offering a special incentive for the first ten new sign ups, citing particular opportunity areas including the Midlands, the South-Coast and the East of England.
Hunters Personal, designed to provide agents with the flexibility to work on their own terms without the need to hub from an office, will cost agents signing up to the brand 10% of their revenue.
Hunters says that the sign-up process takes from four weeks to complete and there is potential to progress to opening a physical branch once established and successful.
Hunters, which is part of The Property Franchise Group (TPFG), currently operates 210 offices across England and Wales, 200 of which are owned by franchise partners.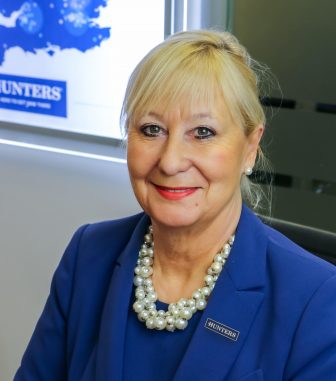 Hunters Personal agents can benefit from full franchise support including, local and national marketing, social media, portal access, regulatory support, and ever-evolving training via The Hunters Training Academy which was established in 2006.
Hunters says it is committed to training its agents and offers their own Academy Qualifications with courses accredited by Propertymark.
Glynis Frew, managing director of Hunters, said: "Aligned to shifting living and working trends, our new model will allow Personal franchisees the opportunity to launch and run their own business on their terms, with the full backing and industry-leading support that Hunters offers.
"For those with the appetite to grow further, it provides an ideal foundation for franchise branch ownership including multiple branches. We have always looked to grow our people and this is the next step in that journey."
Gareth Samples, chief executive officer of TPFG, added: "The property landscape is forever shifting and to stay competitive, it is vital that we offer the flexibility that many are craving amidst the new working world. Hunters Personal personifies this, with huge potential for self-driven agents to make a mark on their territory in both the sales and lettings markets."