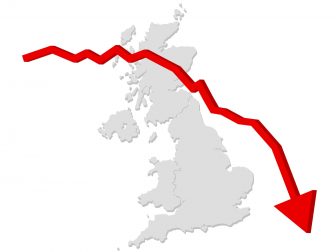 Residential property prices could plummet by up to 15% next year amid growing concerns of further interest rate increases, mortgage brokers have warned.
A number of mortgage professionals have seen a surge in enquiries from homeowners and property buyers scrambling to secure new deals on their homes before the Bank of England increases rates further, with predictions its monetary policy committee could raise interest rates to 6% next year.
A 15% drop in the value of property would see the price of a typical £300,000 home fall by £45,000, with a number of mortgage lenders holding back from offering mortgage deals for new customers in anticipation of a rate hike.
Confidence in the housing market has been adversely affected by chancellor Kwasi Kwarteng's mini-Budget last Friday which saw the biggest raft of tax cuts for 50 years.
The Bank of England yesterday moved to try and calm markets by committing to buying government bonds in a bid to stabilise
But analysts are still warning that further increases, which currently seem inevitable, may cause house prices to tumble as increased monthly mortgage costs slash home buyers' spending power.
Rob Gill, managing director at mortgage broker Altura Mortgage Finance, believes that a further rate increase will have a "dramatic effect" on the value of residential properties, adding that he "couldn't rule out" a 15% fall to average value of a home.
Gill told i: "Some different clients who I did a remortgage for last week, I helped them buy a property two years ago. Their initial rate is 1.31 per cent, and that meant their payments were £978.
"The deal that we just got for them last week, the rates had already gone up to 3.72% and their payments are £1,280.
"That lender has now pulled that off the market. The rumours are they'll come back today with rates of four and a half per cent or five per cent. At 4.5% their mortgage repayments would be £1,390.
"If rates go to 6%, that same borrower will be paying over £1600."
"Today's a sort of waiting game to see how that lenders come back to the market and, crucially, what sort of rates they come back to the market with," he added.
"If we get rates coming back in the low fours, I think we're OK. But if we start to see rates come through beginning with five then I think that's going to be very difficult for new borrowers, remortgages, and purchases."
Capital Economics and Credit Suisse have also estimated that an interest rate rise from its current level of 2.25% to 6% could see house prices plummet by between 10% and 15%.
Mark Harris, chief executive of mortgage broker SPF Private Clients, commented: "I think the next eight weeks until the 23 November we are going to have quite a quite a bumpy ride in terms of terms of rates and mortgage availability.
"So we see fewer transactions and probably a price correction of between 10% and 15% if they [BOE interest rates] get to that level [6%].
"It's a worrying time for borrowers," he added. "We've been inundated with existing clients and new clients just wanting to know what they should be doing."
The National Association of Property Buyers said its members were concerned at some of the signs which were now beginning to emerge from the market.
Spokesman Jonathan Rolande said: "Property insiders are nervous to say the least.
The nervousness is not so much around what has happened yet – but it is more about what comes next, because all previous dips and crashes have started slowly and then caused enormous damage over years.
"Estate agents are now using the crisis to agree deals, where sellers were saying "no" to a nearly acceptable offer last week, a quick call to recommend taking a deal is working.
"This is in total contrast to last week when sellers were getting increased offers thanks to government money dropping into buyer's pockets via stamp duty cuts.
"So far people are holding their nerve – it has, after all, only been a few days of relative chaos in the market. But estate agents, buyers and sellers are watching events avidly and awaiting developments.
"If the ship is steadied within the next two weeks, this will be nothing more than a blip. Much longer and we will see a downward pressure on prices.
"Those that have to sell will begin reducing first, as usual it is the financially vulnerable who take the hit soonest.
"Those moving for lifestyle reasons will wait. Landlords will sell up to cash out at the top and put their money into the bank."