Review website allAgents has announced that this year's allAgents Customer Experience Awards will be presented by Homes Under the Hammer's Martin Roberts.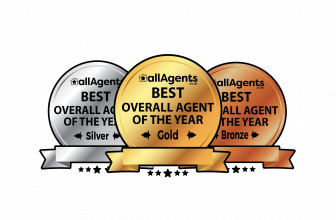 The event, which will be held at the Kia Oval in London on Friday 2nd December, will feature more awards for industry suppliers than ever before, as the review platform looks to recognise the excellent service many of these firms provide.
Martin Roberts commented: "I have met and worked with many property professionals over the years and so it is a pleasure for me to be involved in celebrating awards for excellence in customer services across the UK estate and lettings agent sector. It is sure to be a wonderful event and a fantastic celebration for all attending."
The announcement that Roberts will be presenting the allAgents Customer Experience Awards 2022 comes just four months after the Homes Under the Hammer TV presenter was rushed to hospital "with hours to live", due to a "serious" heart condition.
The former 'I'm A Celebrity… Get Me Out Of Here!' contestant underwent emergency surgery in April when fluid was discovered round his heart.
Roberts said at the time that his health issue could have left him with "hours to live", as he detailed how fluid around his heart was stopping it from working.
The 58-year old TV presenter took to Twitter where he posted a video update, informing his followers that he had been suffering with "chest pains."
He said at the time: "Little bit of good news, little bit of bad news. I ended up in hospital in Bath yesterday.
"I had a few chest pains and just feeling generally lousy, so I was brought in here and turns out I had a massive amount of fluid all around my heart, which was actually stopping my heart working.
"Had they not got rid of it, which they did in an emergency operation last night, then it's sort of quite serious, like, hours to live kind of c***."
Martin has thanked God that he is "still around" following the health scare.
He said: "So here I am, still around, thank goodness, thank God and angels, all those things."
The television personality promised he would keep everyone updated on his health developments, which he did. See below.
Homes Under the Hammer's Martin Roberts issues 'emotional' health update