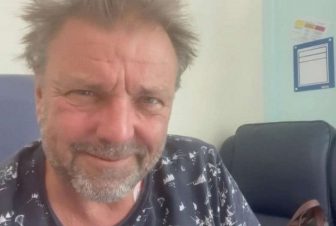 Homes Under the Hammer presenter Martin Roberts has issued an emotional career update after he was rushed to the hospital last month when a health scare left him just "hours from death".
The 58-year-old initially thought he was experiencing symptoms of long-Covid, but was told by doctors he had a "a massive amount of fluid" surrounding his heart.
Roberts told his 20,700 Instagram followers yesterday that he had some "pretty amazing news".
"Today is a very special day and it's quite an emotional day to be honest," he said. "Because I've spoken to the doctors and they've said as long as I take it easy – which isn't necessarily that easy for me but I've got to…
"As long as I take it easy, I'm ok to start work. So I'm back today filming Homes Under The Hammer."
"I'm in the valleys of Wales and I never thought I would be so happy to see a two-up two-down terrace," he continued, kissing the wall of a house.
"I have missed this so much and yeah, it's amazing to be back."
Homes Under the Hammer's Martin Roberts rushed to hospital with 'hours to live'