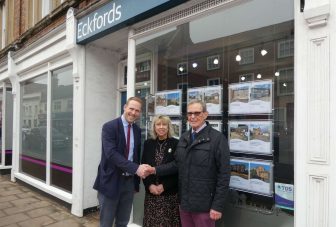 R Longstaff and Co, which has offices in Spalding, Bourne and Grantham, has acquired Eckfords in Bourne.
The sales and letting team at Eckfords, which was founded in the early 1990's by Rex and Angela Eckford, have joined Longstaff, which was established for more than 200 years.
The Eckfords branded office will continue to operate from its existing site in West Street, while the R Longstaff & Co branch remains open in the existing premises on Abbey Road.
This is Longstaff's second acquisition in recent years. The company took over Escritt Barrell Golding in 2022 to help expand its presence in the Grantham market.
In May 2010, Longstaff bought the residential letting and management business of Lyalls Lettings in Bourne. They then merged with the company's existing Bourne office, which had opened in 2006.
Longstaff partner Robbie Longstaff commented: "We are confident that our acquisition of Eckfords – and merger of their team into our existing residential sales and lettings team – will bring even greater strength and experience from which our clients will reap the benefits."