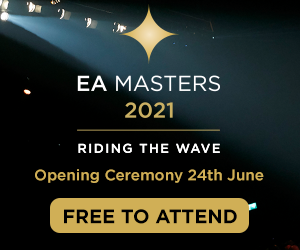 EA Masters by Property Academy is back for another year, and we are delighted to be a part of it, as official News Media Partner.
As a subscriber to Property Industry Eye, you have an opportunity to win tickets to this year's EA Masters.
Property Industry Eye has secured 10 tickets to attend this year's full event programme online.
The opening ceremony of EA Masters takes place on Thursday 24th June and is free for estate agents to attend. Register now and as a subscriber to our news service, you will automatically be entered into the prize draw for a chance to win a ticket to attend the full event.
Winners will be announced at the EA Masters launch event next week.
You can register to attend the EA Masters launch event by clicking here.
Reasons to attend the launch event:
2021-22 Awards and Best Estate Agent Guide: Find out if your agency is among those who will be listed in the Best Estate Agent Guide 2021-22, based on Property Academy's whole of market assessment.
Tickets Launch:Find out if you've won a free ticket to this year's virtual event programme courtesy of Property Industry Eye and take advantage of the early bird discounts.
2021 Home Moving Trends Survey – Discover why and how you can get involved with the biggest survey of its kind covering Sellers, Buyers, Landlords & Renters.
2021 Exhibition– Discover the latest product and service innovations that can help your business to grow profitably.
And much more. This is not to be missed and completely free so do not delay in registering your place at the estate and lettings agency event of the year.
This offer is not open to suppliers, who must be sponsors of EA Masters to attend. If you would like more information about sponsorship opportunities, click here.