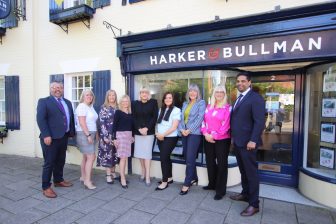 The owner of Nicholas Humphreys in Southampton and Portsmouth has completed the acquisition of independent lettings agency Harker and Bullman in Wimborne.
Bhavik Patel, who has been with Nicholas Humphreys for four years, has added more than 350 properties to his firm's portfolio as part of the purchase.
This is the first Nicholas Humphreys franchisee acquisition since the network became part of the Belvoir Group in April last year.
Prior to joining Nicholas Humphreys, Patel, whose business partners are Priti Kashyap and Tarun Patel, had a background in financial services.
Patel commented: "We originally launched Nicholas Humphreys Southampton as a cold start and then a year ago we bought the Portsmouth office as a resale. I can confirm that we have now successfully completed on the acquisition of Harker and Bullman in Wimborne following the retirement of the previous owner.
"The new acquisition is very well-established independent lettings agency that has been in business for close to 30 years and has an excellent reputation. The acquisition has added a new territory to the network in Bournemouth and Wimborne and added over 350 properties to our portfolio. I am also delighted to confirm that we will be retaining the entire Harker and Bullman team who have a wealth of experience and will continue providing a very high standard of service to clients.
"I have already spent some weeks working with the existing team and have made very few changes apart from investing in new equipment and streamlining some processes to help make their lives easier. The branch manager, who has been with Harker and Bullman for six years, has had a lot of input into the changes we have made and will be responsible for the day to day running of the business. We look forward to working with Harker and Bullman's existing clients and welcoming new ones in the future."
David Spackman, managing director of Nicholas Humphreys, was full of praise for Patel and his business partners.
He said: "I would like to congratulate Bhavik and his business partners Priti Kashyap and Tarun Patel on this acquisition, which has enabled them to grow their business considerably.
"It is also significant as it is the first acquisition for the Nicholas Humphreys network since becoming part of the Belvoir Group in 2021, and clearly demonstrates the benefits of becoming part of the wider Belvoir Group with access to our Acquisition Programme. I am very grateful to our franchise director Deborah Hodgkinson for her help with the acquisition and would like to wish Bhavik every success for the future.
"Several other Nicholas Humphreys franchisees have also signed up to the Acquisition Programme and are keen to replicate Bhavik's success by growing their businesses through the acquisition of independent agents. I would advise any interested independent agents who are considering an exit strategy to telephone our Acquisition Team for a confidential chat to find out more information about the benefits of becoming part of the Belvoir Group."