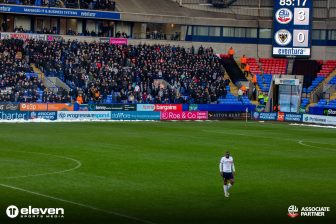 Independent estate agency Roe and Co has announced that it will extend its role as a Bolton Wanderers associate partner in the 2022/23 season.
Joining at the start of the 2021/22 EFL season, Roe and Co has used the football club to reach out to fans – and potential customers in a bid to increase local market share.
Roe and Co has increased brand awareness with the company's brand appearing on pitchside perimeter LED displays, every match programme and online alongside live match stat content managed by partnership experts, Eleven Sports Media.
The company, which was founded in 2020 by Stephen and Kate Roe, serves Bolton, Bury, Radcliffe and Whitefield.
Kate Roe explained the thinking behind the company's associate partnership with Bolton Wanderers, commenting: "Partnering with Bolton Wanderers and Eleven Sports Media provides us with huge potential to reach out to our target market and help people sell their homes with ease.
"The change in ownership, with Sharon Brittan and Football Ventures, has brought with it a fresh ethos, which aligns closely with our own community driven ethos. The club's 'One Club, One Town, One Community' mantra is one we can relate to in all that we do – offering a personal service that national estate agents really can't match."
Gary Holt, commercial manager at Eleven Sports Media, added: "Roe and Co. are a delight to work with and we're very pleased to he helping them share their expertise with Bolton Wanderers' loyal fanbase. Their professionalism shines through in everything they do and we're thrilled to be working with Kate and her team again next year."