Connells Group and LSL have today announced that they have sold their shareholding in property search and conveyancing services provider TM Group (UK) Limited.
Connells has sold its 64.68% shareholding in the Group, established in 1999, while LSL has offloaded its holding of 32.34%. 
The acquirer is Dye & Durham (UK) Limited, Canadian based global provider of cloud-based software and technology solutions for legal and business professionals, and the exit will generate proceeds of £58.7m for Connells Group on a cash free debt free basis.
David Livesey, Connells Group CEO and outgoing Chairman of TM Group, said: "We are proud of the business that we built and which is set for further development under the ownership of Dye & Durham.
"They are the ideal acquirer for TM, enabling it to evolve as part of a global operation and providing a good fit alongside the stable of specialist businesses that they are assembling.
"We are excited for the future of TM Group, wishing the team ongoing success, and look forward to continuing our partnership with them as customers for the long term."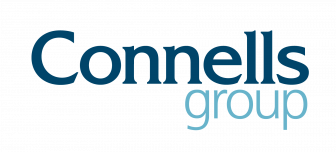 The cash consideration for the disposal of LSL's shares in TM Group, which owns the sales progression business MIO, is £29.3m on a cash free debt free basis.
LSL's carrying value and share of net assets of the TM Group investment as at 31 December 2020 was £2.3m (gross assets of £6.8m). In the 12 months to 31 December 2020, the LSL share of TM Group profit was £1m.
The decision to offload its stake in TM Group follows the sale of LSL's investment in LMS just over a month ago, further simplifying the Group structure, providing additional capital for deployment into opportunities to accelerate the Group's growth strategy, in particular financial services.
LSL's growth strategy is supported by what it recently described as 'a strong and flexible balance sheet', with announcements in 2021 of two technology acquisitions, a major financial services distribution agreement with The Property Franchise Group plc, a £200m joint venture with Pollen Street Capital to create a major mortgage broker, "Pivotal Growth" and key senior hires.

TM Group has been wholly acquired for £91.5m by Dye & Durham, which marks a new chapter for the company and its subsidiaries mio, Property Searches Scotland and Conveyancing Data Services (CDS). They will now join a well-established and broad group of property market businesses – including Property Information Exchange, PSG, Index, Stanley Davis Group, Lawyer Checker, FCI and Terrafirma.
Bringing together over 20 years' experience to support all connected parties across the chain with the latest, innovative solutions to help improve communication, efficiency and collaboration, tmgroup are well-aligned with Dye & Durham's vision, according Tom Durbin St George, the company's MD UK&I.
He stated: "Dye & Durham has grown significantly over the past few years through the acquisition of key businesses that support our strategy as a global technology company.  We seek to bring the best people, technology, and product brands together for the benefit of our growing customer base, and we are now excited to welcome tmgroup to the Dye & Durham family."
Joe Pepper, tmgroup CEO, added "This represents a huge opportunity for tmgroup, and we look forward to everything our next chapter has in store, as we continue to play a leading role in improving the property transaction process for the benefit of all."