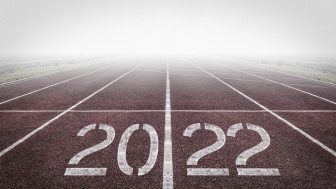 What will the property market look like in 2022? With the threat of Omicron looming, and interest rates set to rise further, there are plenty of factors at play.
Several estate agents and members of The Guild of Property Professionals, have shares their predictions for 2022 and the property market over the next 12 months.
Andrew Simmonds, director at Bristol-based Parker's Estate Agents, said: "Although prices this year will grow at a slower rate than in 2021 due to rising rates, taxation and the energy crisis, the market certainly won't go off a cliff due to the lack of supply. I am expecting to see many vendors sell and move to rented with a view to onward purchasing later in 2022 or 2023."
Simon Bradbury, managing director of seven branch Thomas Sales & Lettings in Cambridgeshire, Hertfordshire and Bedfordshire, commented: "As with any predictions about the housing market in the UK, there is a huge amount of uncertainty when it comes to anticipating what may or may not happen in 2022 – particularly in view of what impact the Covid situation may have and the expectation that there will be no further boost in respect of Stamp Duty exemptions in the year ahead.
"There are undoubtedly some general economic headwinds that need to be factored into any predictions. These include an expected increase in interest rates, higher rates of inflation, continued Covid restrictions and general economic uncertainty as the consequences of Brexit become clearer – probably!
"I would suggest that the rental market in 2022 will probably be a repeat of 2021 – a gradual increase in rents with volumes remaining about the same. As for the sales market, I expect that volumes of housing transactions across the UK will reduce from the anticipated 2021 figure of 1.1 million to a more modest 890,000 and that this 20% reduction will be broadly reflected in our own Eastern region. This reduction will be mainly due to the continued lack of instructions, which will in turn, impact house prices which I expect to increase by a UK average of 7% and a regional average of approximately 6%.
"The two big themes of 2022 for the property market will be a continued lack of instructions and a general increase in interest rates."
According to John Newhouse, from Roseberry Newhouse in Stokesley, early signs in the market indicate high demand and low stock availability similar to 2021.
He explained: "Looking for the ideal purchase or rental will have its challenges and I would advise buyers and tenants to work closely with their estate agent. Landlords will continue to enjoy choice of tenant to suit their need. And sellers may continue to expect premium prices but should be wary of overzealous price guidance," adds Newhouse.
Charlotte Demaine, from Edkins & Holmes Estate Agents, remarked: "Looking forward to 2022, I am confident that it will continue to be a sellers' market for the first quarter. As the year progresses, I think property prices will begin to level off as more properties come to market and property price increases will begin to slow down, however, I feel overall the market will remain strong throughout 2022. The lack of properties available for rent means that the cost of renting continues to increase – great news for our landlords but not so good for people looking to rent."
Zoe Napier, director of The Zoe Napier Group who specialises in selling unique homes in Essex, said: "The new year has started with spring in its step with an increased level of buyers leaving London and the city suburbs for that lifestyle move. Essex offers a surprising amount of beauty in the villages, coastal and rural areas and property prices in these areas continue to rise, not least due to the number of proceedable buyers bidding on any single property.
She continued: "The message we have for buyers is once you have decided to move, get yourself in a position of strength from already having a buyer and complete chain behind you. Alternatively, if you are fortunate enough to be a cash buyer, to have proof of funding available and even demonstrate this to any selling agent at the earliest possible opportunity.
"For those requiring a mortgage, then ensure to obtain an advanced 'approval in principal' – a document which can be made readily available by most lenders of mortgage brokers. This will be requested by any agent at point of offer and those first off the block with their evidence can place their offer, strong intentions, readiness to co-operate and commitment in an advantageous situation."
Director of Kelvin Francis Estate Agents in Cardiff, Kelvin Francis, says that the residential property market in Cardiff has remained buoyant throughout 2021 and the early signs are that this is continuing in 2022.
He commented: "Large numbers of requests for valuations and instructions are being received after the festive period, indicating continuing optimism and confidence in the market.  Values for the most attractive properties have proved strong, with large numbers of viewings leading to several offers, often having to go to sealed bids, achieving prices which on average are 5% to 10% over the asking prices.
"The average house price in Cardiff for 2021 is £289,596 showing an average annual change of 16.5% increase.  Demand is particularly strong in the popular two-bed starter homes and traditional three-bed, semi-detached dwellings, where continued pent-up demand has led to a record level of viewings for most listings.  In the rental market, rents have increased on average by 20%, which has encouraged many established landlords to increase their portfolio, competing with would-be first-time buyers in the sales market, adding fuel to demand and house price increases."
Francis added: "Many housing analysts are predicting a 5% increase in house prices for 2022. However, we feel that in 2021, house prices increased on average by 15% plus, which cannot be sustained, so our view is that house prices for 2022 will stabilise and at best increase marginally by 1% or 2%."