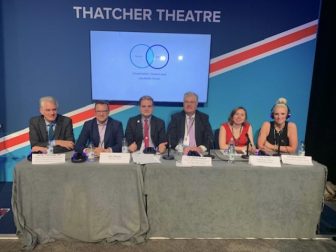 Anti-landlord sentiment has pervaded the Conservative Party Conference across many of the main and fringe events, according to well-known property commentator Vanessa Warwick, who yesterday participated in a discussion.
The panelists (pictures) were, from left to right:
James Cartlidge, MP
Ben Beadle, NRLA CEO
Tim Patmore, Event host and Conservatives Landlord & Tenant Forum
Councillor David Renard, Swindon Borough Council and LGA member
Tilly Smith – Generation Rent
Vanessa Warwick
Warwick said: "Interestingly, James Cartlidge claimed to be behind measures to shrink the private rented sector, including Section 24 and increased stamp duty – ideas that were taken up.  However, he also claimed to have put forward that all BTL mortgages should be re-payment only.
"He was very much against "leverage" and suggested that landlords should not be able to use it to grow portfolios and that repayment mortgages would stop the growth of BTL.
"Mr. Cartlidge was proud of how his measures had curbed landlords.
"He was full of headlines about planning reform, building more social housing, and shared ownership, but was very light on the detail and timscales.
"Both Ben [Beadle] and I challenged some of his comments."
Beadle and Warwick recorded this summary interview: