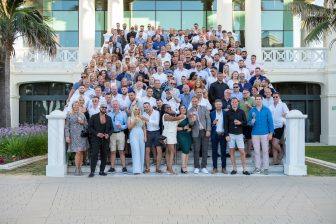 More than 200 of Connells' top achievers recently returned from a four day all-expenses paid trip to Valencia in Spain.
The company said the trip was designed to 'recognise' those individuals who have demonstrated 'continued excellence' in their role and generated 'outstanding results' for the company.
Valencia adds to the many locations those previous winners have enjoyed, including New York, Dubai and Barcelona.
"Our annual Top Achievers trips are always incredible, however being our first one in three years, this trip felt that much more special," said David Plumtree, Connells Group Estate Agency chief executive. "It was amazing to see so many new and familiar faces, and to show our appreciation following our record-breaking year for the group in 2021. Those who attended these events qualified due to their consistent, outstanding performances which have helped us to achieve these excellent results."
Connells recently hosted its Group Platinum Events to show its gratitude to more of its best performing colleagues.
Plumtree added: "As a company, we place a strong focus on recognising hard work and rewarding those who have gone the extra mile, and we look forward to rolling out these same benefits to our Countrywide colleagues over the next year."