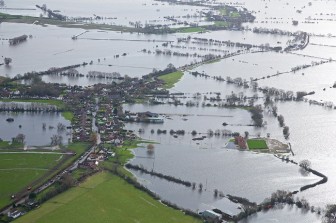 As many as 25,550 new homes are set to be built in areas that are already highly urbanised or where more than 1% of homes are already at risk of flooding, according to a new report.
Commissioned by LV=General Insurance and think-tank Localis, the study looked into the issue of surface water flooding and how it is being managed in England. The research found that planning permission has been requested for the building of 35,282 homes in minor developments containing between one and nine homes in areas already at risk of flooding.
Since approval for these types of developments was granted in 73% of cases in England over the same period, the analysis concluded that as many 25,550 new homes may have been accepted without any obligation to demonstrate the impact on surface water drainage in the local area.
The report found that while the building of these homes is subject to flood impact assessments for the development itself, there is no legal requirement to have a drainage strategy in place. This differs from larger developments of over nine homes, which legally require this due diligence before planning is accepted.
According to the National Audit Office, some 5.4 million homes in England – one-in-six – are already at risk of flooding, with the majority of them particularly susceptible to surface water flooding.
Martin Milliner, claims director at LV= General Insurance, commented: "As an insurer we see first-hand the very real and devastating impact flooding has on people's lives. While we know the building of more homes is necessary to combat the housing crisis, the country is becoming less resilient to more extreme weather, and we must look at the future impacts this will have on our homes.
"The report highlights significant issues that continue to put an ever-increasing number of communities at risk, and it's crucial property developers, insurers and local authorities work together to tackle this important issue," Milliner added.