The Guild of Property Professionals says that it has received a letter from the Ministry of Housing, Communities & Local Government (MHCLG) to inform them of the current routes regarding asymptomatic testing to try and help organisations within the property sector, and various other sectors with people who need to leave home to work stay safe.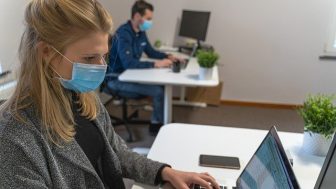 The expansion of asymptomatic testing is designed to identify more positive cases of Covid-19, ensuring that those infected isolate by staying at home.
Health Secretary Matt Hancock said: "With roughly a third of people who have coronavirus not showing symptoms, targeted asymptomatic testing and subsequent isolation is highly effective in breaking chains of transmission."
According to Iain McKenzie, CEO of The Guild, the letter received from MHCLG identifies two routes that agents and other property professionals can pursue for testing.
McKenzie said: "The letter states that there are two routes that those within the property sector can take for testing.
"In the case where a business has more than 50 employees, workplace testing will be providing to employers. Workplace testing has already been in place in a number of sectors for some time, however, this has now been expanded further to all business with the minimum required number of staff.

"If the business has less than 50 employees, which will likely be the case for most independent estate and lettings agents, community testing will be provided through local authority sites."
According to the letter, all local authorities are expected to go live with community testing by the end of February.
"Every positive case that is found will help stop the spread of the virus and will allow agents to continue working in a safe manner," said McKenzie. "Expanding the offering to all local authorities means that the testing will be more readily available to both local independent estate and lettings agents, as well as the vendors and buyers they come into contact with."
More than half of agents surveyed last month felt that their workplace was not Covid-secure, with 61% of respondents wanting to see rapid testing introduced.
More than half of surveyed agents feel workplace is NOT Covid-secure