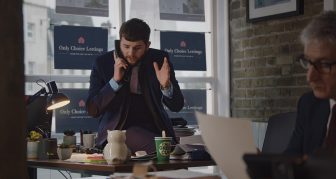 Homelessness charity Shelter has launched a new advertising campaign mocking letting agents as it takes a fresh swipe at the lettings sector ahead of today's Queen's Speech.
In the video, which you can view below, the fake letting agent, played by comedian Rory Marshall, relentlessly tries to rent out properties to prospective tenants.
At first glance, the listings look like a good deal but as the agent shares more detail the customers are shocked by the terrible landlord behaviour and dangerous conditions of the properties. For example, there's a Victorian flat that boasts all the original features, including asbestos.
Shelter says the 'satirical' video, "Only Choice Lettings", produced by creative agency Pablo, aims to illustrate the raw deal so many renters are getting, as well as to promote its 'frontline services' that support private renters 'who are forced to live in dangerous or unhealthy conditions because of a lack of regulation'.
Shelter says that while the letting agency is fictional, the properties are based on true stories reported to Shelter by private renters, as it increases pressure on the government to push ahead with its long promised rental reforms.
Shelter is urging the government to deliver a Renters' Reform Bill today, and says that it must make private renting safer and fairer by introducing a national landlord register to help drive up standards and by banning Section 21 evictions to give renters the security to challenge poor conditions.
Polly Neate, Chief Executive of Shelter, said: "Landlords and letting agents have got away with cutting corners for far too long because renters are powerless to challenge them. Tenants are sick of paying through the nose for terrible rentals because they have no other choice.
"Every day our frontline services hear from renters stuck living in nightmare situations, too scared to complain for fear they'll be kicked out. No-one should be stuck living in mouldy homes that make them ill or have to put up with landlords who turn up unannounced.
"Private renting is broken – and the only way to fix it is by strengthening tenants' rights so they can stand up to bad landlords and challenge poor conditions. The government must keep its promise by introducing a Renters' Reform Bill this year that will scrap 'no fault' evictions and bring in a national landlord register. It's the only way to transform private renting for good."