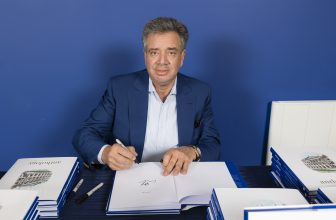 Gary Hersham, founder of Beauchamp Estates in London, and arguably one of the best-known estate agents in the UK, has launched a new upmarket property book which delves into the extraordinary history, Royal, billionaire and celebrity connections of his most famous instructions.
The book, called Anthology, has been produced by Harriet Woods, marketing manager at Beauchamp Estates, with content contributions from Hersham and managing director Jeremy Gee.
Anthology looks at a selection of high-end deals, clients and luxury properties that Hersham and his team have handled over the years, including the homes of celebrities, billionaires, Royalty and aristocrats and features some of the homes Beauchamp Estates has sold.
The book was unveiled at a launch party Beauchamp Estates' St John's Wood office.
The book includes the £220m Rutland Gate mega-mansion in Knightsbridge, the UK's most expensive home which Beauchamp Estates sold on behalf of a Saudi Royal family member to a Hong Kong billionaire.
It also reviews 93 Eaton Square in Belgravia, the former London home of prime ministers Stanley Baldwin and Margaret Thatcher, which Beauchamp Estates sold for £21m on behalf of the estate of Mrs Henry Ford II to an American billionaire.
Other homes reviewed in the book include the former home of popstar Robbie Williams in St John's Wood, playwright Harold Pinter's mansion in Regent's Park, music icon Sting's former London home, the Beverly Hills estate of William Randolph Hearst, and the Henley-on-Thames country estate once owned by Princess Lee Radziwill, the sister of American First Lady Jackie Kennedy.
Lavish properties covered in the book also include the former Mayfair home of socialite Nancy Mitford, the Regent's Park home of a member of the Rothshchild banking family, the Hyde Park home of Mary, Duchess of Roxburgh, the Hyde Park residence of Mary, the Duchess of Sutherland, and the St James's Park mansion of Harriet Beauclerk, the Coutts & Co bank heiress.
Hersham commented: "In this book we have brought together some interesting stories based on a selection of the properties that we have been involved with over the years. Discovering their story, explaining their provenance and history, and perhaps shining a light on a famous past resident, highlights what makes an address so special. Anthology is a "must read" book for those with an interest in property, history, architecture and people."
Beauchamp Estates sells former prime minister's £19.7m townhouse