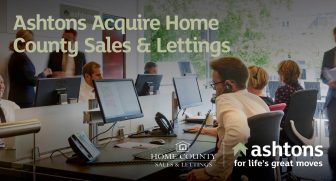 Hertfordshire based estate agency Ashtons has acquired Home County Sales & Lettings (HCSL) in Harpenden.
This deal sees HCSL join the Ashtons Group, marking the company's third acquisition in just 15 months.
Ashtons currently operates with 120 staff in six commuter locations outside of the M25, within the A41-M1-A1 corridor.
Karl Judd, managing director of Ashtons, said: "We are delighted to introduce the Home County Sales & Lettings business to our ever-expanding network. The business is perfectly aligned with our own values, focused on providing exceptional service levels."
Liz Sibley, director of Home County Sales & Lettings, added; "I would like to thank all our loyal customers who have supported me on my journey with HCSL. It is a day of rather mixed emotions for me, after 10 years at the helm whilst I am sad to be saying goodbye to our loyal clients, I am confident that I am leaving HCSL in very safe hands with Ashtons and they will continue to provide a first-class service."
The HCSL business will now be based at Ashtons' High Street office in Harpenden.
Over the past 15 months, Ashtons has also acquired Aitchisons Residential in St Albans and Berkhamsted, as well as Putterills Land and Development Ltd in Hitchin.