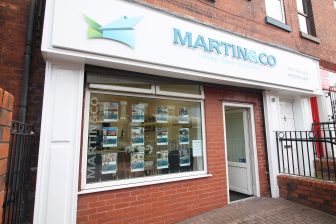 The owners of Martin & Co's Widnes branch have completed a fifth independent acquisition – taking their managed portfolio closer to 600 properties.
Martin & Co Widnes owners Stephen and Amanda Hember took on the national sales and letting agency branch in 2007 and have enjoyed consistent growth organically and through acquisitions over the past 15 years.
The branch's latest acquisition was for almost 60 properties from Widnes and Warrington independent The Big Property Shop.
Stephen Hember said: "We're delighted to have completed this acquisition from The Big Property Shop, which had been bubbling for a few years.
"The Property Franchise Group approached us about the potential for a deal with The Big Property Shop initially and although it didn't happen at that time, we stayed in touch and had another conversation earlier this year.
"In the end, we did the deal in around two months, which was fast, and it was very straightforward.
"The deal for just under 60 properties was a great number for us and we were able to absorb them into our current structure."
Stephen and Amanda Hember have also been able to expand further into neighbouring Warrington thanks to The Big Property Shop's portfolio, following their acquisition of Rent 2 Go Properties in the town three years ago.
Martin & Co MD, Ellie Hall, added: "I am absolutely delighted for Stephen and Amanda.
"Although they are no strangers to acquiring businesses, it is their processes, procedures and most importantly their excellent customer service that make them so successful at them.
"With the ever-changing regulations I'm sure our new landlords will welcome Stephen and Amanda expertise and guidance."