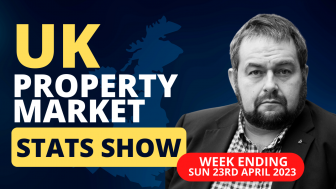 With Easter behind us, the UK property market has returned like Captain Kirk from Star Trek with full lasers set to stun(ning) and glitter balls a spinning with best week for sales since September 2022.
As the doom mongers run out of steam, the UK property market goes from strength to strength as it recorded its best week for sales since the Autumn 2022, which is its best week for listings since April 2022 and its best week for price reductions since Sept 2020.
And even though sale fall thrus are up from last week, they are still only at 21.99% for the week (sale fall thrus as a % of gross sales), lower than the 24.3% running average for 2023 and way way lower than the Q4 2022 average of 38.2%.
Regionally, the picture is almost identical in all regions.
In the last 15/20 mins of the show, there is a focus on the Croydon property market, comparing market share and the effectiveness of all the Croydon estate agents.