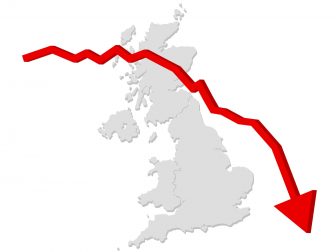 Higher mortgage rates could take up to 5% off residential property prices next year, according to Zoopla.
The recent spike in mortgage rates represents the largest interest rate shock for new buyers since the late 1980s and despite signs that mortgage rates will fall back, they will not return to the ultra-low levels of recent years.
Mortgage rates of 4% to 5% are likely to be the new norm, the property portal predicts.
Following the dramatic increase in mortgage rates in recent months there is light on the horizon for new buyers looking for a mortgage who had not managed to secure a cheaper rate before August, with signs that the cost of money that underpins fixed rate mortgages (SWAP rates) is starting to fall back in line with other borrowing costs.
Higher mortgage rates do not hit all buyers equally. Half of all sales are typically paid for by cash or using a mortgage that is small relative to the value of the property. These buyers will see less of a hit to buying power than first time buyers and those looking to trade up using larger loans.
The drop in new buyer interest over the last month has been spread across all UK markets as limited buyers with cheap mortgage offers remain, with the biggest drops in new buyer interest in the South East (-40%) and in the West Midlands (-38%).
Falls in buyer interest are also evident in more affordable regions such as the North East (-20%) and Scotland (24%) but to a lesser extent.
This also coincides with an increase in asking price reductions – almost 7% of homes have seen the asking price reduced by at least 5% – an increase in comparison to recent months, but still below 2018 levels. A scarcity of supply in the market continues to support pricing.
As the market remains turbulent, fall-throughs in sales are increasing, mainly as a result of a lack of affordable finance impacting buyer affordability. However, the market is still on track for up to 1.3m sales in 2022, down from 1.5m in 2021.
What's the outlook for the housing market?
House price growth stands at 8.1% YoY driven by the strength of demand and sales agreed during the last 6 months, and supported by an ongoing shortage of supply. Whilst there was a short-lived surge in the number of homes coming to the market, the number of homes for sale remains below average (-13% vs 5 year average).
Richard Donnell, executive director at Zoopla, said: "New buyer demand has dropped quickly in the face of higher borrowing costs, it's like the Christmas slowdown has come a month early. We don't expect to see any impact on pricing levels between now and December and this will only start to materialise in early 2023.  It takes several months for pricing to adjust in the face of weaker demand.
"The most likely outcome for 2023 is that we see a fall in mortgage rates towards 4% with a modest decline in house prices of up to 5%. The labour market remains strong and the supply of homes for sale is below average creating a scarcity of homes for sale that will support pricing."
According to Zoopla, should house prices fall by 5%, the average UK property would lose 8 months of capital gains with London (13 months) set to see the biggest loss of value and Wales the least (6 months). Were prices to fall by 15%, this would see 20 months of capital growth knocked off the price for the average UK home with 80 months of growth removed in London, but only 15 months for properties in Wales.
Although unlikely, should mortgage rates stay above 6% for the majority of 2023, then UK house prices would fall to reflect the hit to the purchasing power of those using mortgages. Sustained 6% mortgage rates would lead to double digit price falls, eroding any 'paper' gains achieved over the pandemic however it would result in few negative equity cases due to more equity and strong house price growth in recent years.
Looking ahead to 2023, Donnell commented: "The outlook for the year ahead hinges on the trajectory for mortgage rates which impacts the buying power of households who are already facing higher living costs. Mortgage rates were always heading for 4-5% and the impact of the mini budget has boosted them even higher.
"We expect borrowing costs to fall in 2023 easing some of the hit to buying power, but we also expect a degree of price adjustment in the face of price sensitive demand. House prices have risen significantly over the pandemic and homeowners wanting to sell in 2023 will need to be realistic on price and may have to forgo some of the pandemic price gains to achieve a sale in 2023."