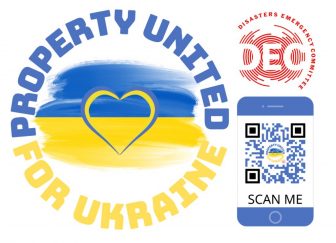 A number of key players in the property industry have united to show their support for the crisis in Ukraine.
Around the country agents and suppliers have been doing some amazing fundraising collections and acts of kindness  in order to help provide humanitarian relief to Ukraine.
With so many companies showing support, the Property United for Ukraine Initiative has been created and supported by Agents Giving, Propertymark, Boomin, Moneypenny, Agents Together, Kerfuffle, Pygott & Crone, and The Guild and Fine & Country Foundation.
A Just Giving fundraising page has been created for industry donations for Disasters Emergency Committee (DEC) and The British Red Cross where you can donate safely via the site to support Ukraine with the much-needed funds they so desperately need- the aim is for agents and suppliers to work together to raise as much money as possible.
A Property United for Ukraine fundraising page has been created, and Agents Giving has kicked off the fundraising with a £10,000 donation.
They will also give a shout out to anyone who donates.
David Newnes, Agents Giving chairman, commented: At Agents Giving we aim to maximise the fantastic work that is done by our industry, by pulling together the charity efforts of agents & suppliers to draw attention to great causes.  Property Unites for Ukraine ensures all your donations are recognised and we raise the maximum we can to start delivering much need help and support".
Any donations can be made via the Just Giving link on the Agents Giving website – click here.
Nathan Emerson, Propertymark CEO, said: "Propertymark members have been galvanised by the unfolding humanitarian crisis in Ukraine. As a sector, we have a strong record of working in our own communities, fundraising and generating charitable giving.
"We are proud to support Agents Giving in uniting the sector behind Property United for Ukraine and it is inspiring to work with so many agents who are helping in whatever ways they can."